Father Endres to take over 'A Question of Faith' column for CT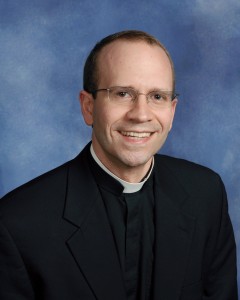 Father David Endres, PhD., recently appointed Dean of the Athenaeum and Mount St. Mary's Seminary, will write a regular column for The Catholic Telegraph beginning with the July 2016 edition of the newspaper.
In addition to his administrative position at the seminary, Father Endres is an Assistant Professor of Church History and Historical Theology and is Editor of the U.S. Catholic Historian.
His column will follow the question and answer format of the column formerly authored by Father Earl Fernandes, who last month was tapped to serve as a secretary to the Apostolic Nunciature of the Holy See to the United States in Washington, D.C. The column will appear first in print, but will also publish online.
Father Endres is a native of the area having attended Sacred Heart elementary school, Fairfield. He is also a graduate of Stephen T. Badin High School (Hamilton), Xavier University and Catholic University of America. He was ordained in 2009 and has been a member of the seminary faculty since 2011.
Those with questions for Father Endres should send them to The Catholic Telegraph's Editor and General Manager Steve Trosley.