Father Gene Contadino: A Legacy of Social Justice and Love for Christ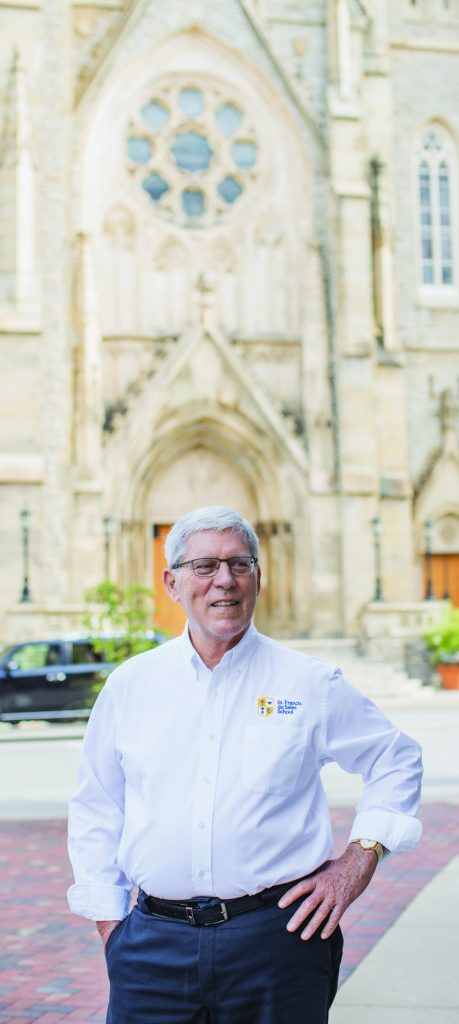 by Eileen Connelly, OSU
Marianist Father Gene Contadino may have retired as pastor of St. Francis de Sales Parish in East Walnut Hills on Aug. 23, but his heart remains with the faith community and school he came to cherish during his 10-year tenure.
"I'm sure in my head that this is the right move. In my heart, it's a little tougher," said the well-loved shepherd, who celebrated his 80th birthday the same day, and is also marking his 50th year as a Marianist priest.
"This has been an extremely warm and positive experience," he added. "During my time at St. Francis de Sales, I've seen the good the Catholic Church does in people's lives. That's what our parish is about. When you say you're a Marianist parish, people think of family or community. That doesn't mean we're doing it better than other parishes, but it is distinctive."
His vocation as a Marianist originated at the then-Purcell High School, where the members of the Society of Mary who helped staff the school inspired him. Ordained on Jan. 31, 1970, Father Contadino's ministry included 26 years at the University of Dayton (UD), serving in a variety of positions, including campus ministry and several terms as rector. In that role, he co-chaired a campus task force that made recommendations for strengthening UD's Catholic and Marianist identity; helped develop an orientation program for new employees; and introduced faculty, staff and students to the Marianist charism.
St. Francis de Sales Parishioners came to know Father Contadino as someone who never shied away from social justice issues, challenged them to put their faith into action and to love and accept others, regardless of their differences, because that is what Jesus calls us to do. He was a relatable pastor, deeply involved in their spiritual and sacramental lives, sharing their joys and sorrows, always reminding them of God's presence and love.
"Father Gene has been a true inspiration to all who have been graced by his motivating and thought-provoking homilies each Sunday," said Louise Stakelin, a longtime parishioner. "His daily Gospel meditations, sent to hundreds, clearly teach us how to live the Word."
"He was a model pastor with an all-inclusive, universal message," added Rick Reynolds, former Parish Council president, who also headed the parish Finance Committee. "He's friendly and outgoing and his homilies drew crowds. He championed Pope Francis and quoted him often."
Father Contadino was also known as a proponent of the Catholic Inner-City Schools Education (CISE) Fund, which includes St. Francis de Sales School, and served on the CISE Board of Trustees. As with other CISE schools, a majority of the students at St. Francis de Sales are low- income and non-Catholic, yet eager to learn and embrace strong Catholic values taught in a nurturing and inclusive environment.
"I've spent my life in education and am proud of the work we do," Father Contadino said. "Our teachers are generous and they give everything."
The parishioners also give everything, he emphasized, citing the focus on outreach at St. Francis de Sales. This includes ministries such as the HELP Program, which provides support for returning citizens who have been convicted of a felony by helping them find and maintain employment and assisting them in becoming fully self- sufficient and contributing members of society.
"The past 10 years have gone by in the blink of an eye," he said, the love for the community evident in his voice. "One of the blessings of being priest is entering pretty deeply into peoples' lives. It can be heart-mending and heart-wrenching. I can't express the joy I felt being part of the parish. I'm just in awe of the peoples' hearts."
While leaving is bittersweet, Father Contadino finds reassurance in knowing the faith community will be left in good hands with fellow Marianists Father Michael Nartker and Brother Paul Hoffman, pastor and pastoral associate, respectively, along with strong lay leadership and involvement.
As he discerns what comes next, Father Contadino is looking forward to pursuing one of his favorite past-times: riding his Harley, a gift from UD students 10 years ago. His favorite routes take him along the Ohio River as he embraces the open road and fresh air.
Looking back on an active and what he considers to be a very blessed, life of ministry, relationships and prayer, Father Contadino said Elizabeth's words to Mary come to mind: "Blessed is she who believed that what the Lord has said to her will be accomplished. Mary said 'yes' to what God asked of her, but did she really know what she was getting into? "This is a woman who truly believed, trusted and said 'yes,'" he said. "Whether you get married, stay single or enter religious life, there has to be a certain amount of trust. There will be good days and not-so-good days, fun times and not-so-fun times. I'm glad I trusted in God, said 'yes' and hung in."
This article appeared in the October edition of The Catholic Telegraph Magazine. For your complimentary subscription, click here.