Father Gerald Niklas, retired chaplain, dead at 81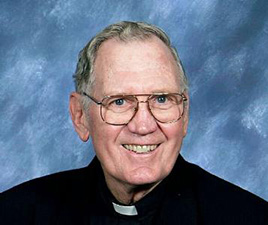 Press Release
Archdiocese of Cincinnati
Father Gerald "Jerry" R. Niklas died Saturday, August 15. He was 81.
Father Niklas was born on October 17, 1933 in Cincinnati. He did his preparatory studies at St. Gregory Seminary and studied theology at Mount St. Mary's Seminary of the West in Norwood. He was ordained on May 30, 1959 at the Cathedral of St. Peter in Chains in Cincinnati by Archbishop Karl J. Alter.
Father Niklas received his first assignment on June 12, 1959 as an assistant at Holy Name Parish in Cincinnati. In August 1965, he was appointed a part-time teacher of religion at St. Ursula Academy, Cincinnati, while continuing at Holy Name. In 1967, he was appointed as chaplain of Mercy Hospital in Springfield, Ohio, also serving at Mercycrest.
He was appointed coordinator of hospital chaplains for the Archdiocese in 1960 and one of the assistant directors of field education for Mount St. Mary's Seminary in 1970. On June 19, 1974, Father Niklas was appointed head chaplain at Good Samaritan Hospital in Cincinnati. During his years of service he also served as chaplain at Wittenberg College, taught one class a day at Catholic Central High School in Springfield, and served as a member of the Clergy Council on Alcoholism/Chemical Dependency. Father Niklas retired in April 2010.
Reception of the body will take place at 10 a.m. Thursday, August 20, at St. Martin of Tours Church in Cheviot. Visitation will continue until Mass of Christian Burial begins at 11 a.m. Most Reverend Dennis M. Schnurr, Archbishop of Cincinnati, will preside. Burial will follow immediately at St. Joseph (New) Cemetery.
The Roman Catholic Archdiocese of Cincinnati is the 38th largest Catholic diocese in the country, with almost 500,000 Catholics, and has the sixth largest network of Catholic schools in terms of enrollment. The 19-county territory includes 211 parishes and 111 Catholic primary and secondary schools.
Posted Aug. 18, 2015