Retired Auxiliary Bishop Pevec of Cleveland dies at age 89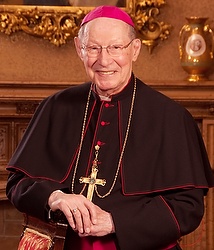 By Catholic News Service 
CLEVELAND — Retired Bishop A. Edward Pevec of Cleveland, the son of Slovenian immigrants who was a priest for 64 years and a bishop for 20 of those years, died Dec. 14 in Cleveland. He was 89.
Retired Auxiliary Bishop Roger W. Gries of Cleveland was to celebrate evening vespers at the Center for Pastoral Leadership Dec. 19.
A public viewing of the late bishop's body was scheduled for the morning of Dec. 20 at the Cathedral of John the Evangelist, followed by his funeral Mass. Cleveland Bishop Richard G. Lennon was to be the main celebrant. Interment was to be at Calvary Cemetery in Cleveland.
Bishop Lennon in a statement reflected "with sadness" on the death of the bishop, who retired in 2002.
"I have known Bishop Pevec as a retired auxiliary bishop who was beloved by a great number of people as he served the church for over 60 years as a priest and bishop," Bishop Lennon said. "Cleveland has witnessed a successor to the apostles as he lived the three-fold ministry of Jesus; teaching, sanctifying and the guiding of God's people. May he rest in peace as a good and faithful steward of the mysteries of God."
Born April 16, 1925, Anthony Edward Pevec was educated at Cleveland Catholic elementary and high schools and he attended Sacred Heart Seminary in Detroit and St. Mary Seminary in Cleveland. He earned post-graduate degrees at John Carroll University and Case Western Reserve University, both of which are in Cleveland.
He was ordained to the priesthood April 29, 1950, for the Diocese of Cleveland. On July 2, 1982, he was ordained an auxiliary bishop for Cleveland.
His first assignments after his priestly ordination included serving as parochial vicar first at St. Mary Parish in Elyria, then at St. Lawrence in Cleveland. While at St. Lawrence he also was director of the St. Alexis Nurses Solidarity.
In September 1953, then-Father Pevec joined the faculty at Borromeo High School Seminary, where he taught full time and was later the principal. He served at the school until 1971. For the next several years he was pastor of St. Vitus in Cleveland and served on a St. Mary Seminary's board for disciplinary problems. In 1979, he was named rector of Borromeo College Seminary. He also was chaplain for Serra Club, co-chaplain for a Knights of Columbus council and later a member of St. Mary Seminary's administrative affairs/canonical affairs board.
On the national level in the 1990s, Bishop Pevec was a member of the National Advisory Council, a group of laity, religious, priests and bishops that meets twice a year to advise the U.S. bishops on issues facing them.
As a Cleveland auxiliary, he was vicar general and vicar of the diocese's Eastern region. The Cleveland Diocese covers eight counties in the north-central part of Ohio.
Over the years, Bishop Pevec joined his brother bishops in Ohio in issuing pastorals on various issues: eradicating "the sin of racism," fostering a welcoming attitude toward migrant workers, rejecting moves toward euthanasia and physician-assisted suicide; calling for a just agricultural system to promote food security and food safety; reiterating the Catholic Church's opposition to the death penalty; supporting and preserving Catholic schools; and objecting to gambling.
During the Clinton administration, he was one of more than 30 U.S. bishops and the heads of 262 Catholic religious communities who sent President Bill Clinton a letter urging him to end the policy of sending Haitians back home without asylum hearings. Their letter was sent three days before the president announced an end to the repatriation policy.
Bishop Pevec also added his voice to calls for closing what was known as the School of the Americas at Fort Benning, Georgia. The school is now called the Western Hemisphere Institute for Security Cooperation.
Posted Dec. 17, 2014