Treasured memories, time are are season gifts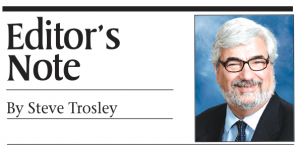 The most glorious of the seasons of the liturgical and secular calendar embraces Easter. It is glorious, first, because Jesus saved us with His death and resurrection and, secularly, because the world seems to come back to life in the spring.
The most heart-warming for most of us is the season now upon us – the Christmas season. We celebrate the birth of Jesus, the great gift of God to us, and gather as a family to share gifts with each other in commemoration of the religious significance of the event.
I find myself thinking of family members no longer with us, who made the season so special for us. While I'm beyond the sadness of their passing, I find myself burdened by regret. The time I could have spent with them and didn't, for reasons forgotten but undoubtedly petty, now plagues me.
Time evaporates like a liquid in a hot frying pan. It disappears without you noticing until most of it is gone. And when it's gone, it's gone. My grandmother said the angels and saints were impatient with someone who squandered time.
One of the things I miss most about people who have passed on at Christmas was watching my father watch us open Christmas gifts. He mostly enjoyed seeing others being happy. There's a bit of that in all of us and I like to think it's because we mimic our heavenly Father's joy in watching us enjoy the gifts He has given us – the world, our families, our church and most of all, His Son, in whom all of salvation is fulfilled.
Another thing I miss, now that my kids have gone their separate ways, is the Christmas Eve argument. As soon as they were old enough to understand what was going on, our three would conspire to get us to open "just one" present on Christmas Eve. As soon as we gave in, they would start looking for reasons to open "just one more."
By the time they moved away, there was usually only one gift to open on Christmas day.
Our treasured memories of Christmas bring us comfort and strength when we feel the loss of a family member or the loneliness of the inevitable life changes we all encounter. But some are not so fortunate. Some need the support of an extended family, especially at those special times of the year when being surrounded with people we love are a part of the experience.
With that in mind, we hope you enjoy our story about the Companions on a Journey bereavement ministry working in the archdiocese.
The good sister teaching seventh grade at St. Bernard's Elementary in Illinois had tired at our lame attempts at writing book reporters. She determined that a more specific assignment would yield a better product, so she told us to use excerpts from Fulton Oursler's "The Greatest Story Ever Told" to explain why the story of Jesus' life on earth was indeed the greatest story ever told.
An avid fan of advertising, even in my youth, I thought it was rather miraculous that the expansion of Jesus' ministry, coming during the Pax Romani, yet without any mass media to support it, was miraculous. (Before you theologians break out the clubs, remember I was age 12 at the time.)
Always seeking a way to get some extra credit, I did some research on miracles – and this was before you could Google it – and came across this Albert Einstein quote: "There are two ways to live your life. One is as though nothing is a miracle. The other is as though everything is a miracle."
Einstein said he chose the latter and so do I.
So with The Catholic Telegraph family, I wish you the miracle of a happy and holy Christmas season. We'll see you back here next year.
Trosley is editor and general manager of The Catholic Telegraph.
This Editor's Note column originally appeared in the December 2014 print edition of The Catholic Telegraph.