Father Joseph Bruemmer dead at 91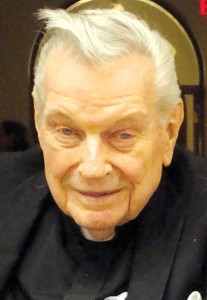 Staff Report
Father Joseph A. Bruemmer died Tuesday morning, Sept. 30, at St. Paul's Archbishop Leibold Home for the Aged. He was 91.
Father Bruemmer was most recently President Emeritus of the Our Lady of the Holy Spirit Center. He served on the board at the Holy Spirit Center for more than 10 years.
A native of Cincinnati, Father Bruemmer did his preparatory studies at St. Gregory Seminary and studied theology at Mount St. Mary's Seminary of the West. He was ordained on August 24, 1948 by Bishop George J. Rehring at Sts. Peter and Paul Church in Norwood, Ohio.
His first assignment as an assistant was at St. Edward-St. Ann parish in Cincinnati and teacher at DePorres High School. He later taught at Purcell Marian High School. He also served as assistant at Our Lord Christ the King in Cincinnati, Assumption in Walnut Hills, St. Teresa of Avila in Price Hill, St. Martin of Tours in Cheviot, St. Mary's Hyde Park, St. Boniface in Cincinnati and St. William in Price Hill.
Father Bruemmer was named pastor of St. Mary parish in Oxford in March of 1971 and co-pastor of St. Cecilia in Cincinnati in June of 1974.
He retired from active ministry in February of 1993 and during his retirement resided at the Holy Spirit Center, overseeing day-to-day operations and severing as a spiritual leader.
Reception of the body will be at 5 p.m. Friday, Oct. 3 at Our Lord Christ the King Church at 3223 Linwood Ave. Cincinnati, Ohio 45226. Visitation will last until 7:30 p.m.
The Mass of Christian burial will take place at 10:30 a.m. also at Christ the King with Archbishop of Cincinnati Dennis M. Schnurr presiding. Father James E. Shappelle will be the homilist. Burial will occur immediately following Mass in St. Mary Cemetery at 701 E. Ross Avenue, St. Bernard, Ohio 45217.
On the occasion of his 60th anniversary of ordination to the priesthood in 2008, Father Bruemmer was asked to recall the many ways he served the Lord's Church. In doing so, he stated, "I have had the pleasure of recalling the very many ways the Lord's Church has served me!"