Missionaries reflect on experiences in Asia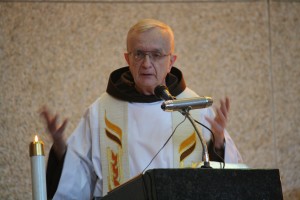 By Walt Schaefer
For The Catholic Telegraph
"I remember crossing from Maripipi Island to Biliran Island with Filipino Archbishop Cipriano V. Urgel Hall when we got caught by a sudden storm that darned near sunk our little boat," said Father Dan Kroger, current director of the Franciscan Media Center in Cincinnati. He worked in the Philippines for many years.
"Since the archbishop was obviously frightened like the rest of us, I said, 'Can you calm the sea, like Jesus?' He replied, 'You forget that Jesus only calmed a lake, this is the ocean,'" Father Kroger said.
Father Kroger is one of several area missionaries who served in Asian countries returning with many memories and fond feelings for those they served.
"I was impressed by the sense of harmony found in the Asian cultures. Social sensitivity is the glue that held social systems together. It took a dictator like (Ferdinand) Marcos to break those bonds," Father Kroger said. "I also was impressed by the number of catechists and lay ministers who really gave themselves in service to their local churches despite great physical and economic sacrifices," he said.
"Asian Catholics have a certain respect for the great religions that surround them – Islam, Buddhism, Confucianism and others. It arises from their sense that God's Holy Spirit reveals God's love through all of the different religions. Also, there is great respect for the tribal religions that antedate the coming of more highly organized religions," he said.
Kathy Kremer served three years with disabled people in Cambodia with the Maryknoll Lay Missioners. She has also served in other areas of Asia and in Latin America.
"Although most Cambodian people wore a smile on their face, the poverty in the country was overwhelming," she said.
Some took extreme means to get money. Kremer recalls seeing a woman drug her baby into a comatose state and a man who inflected himself with cuts all over his body – both to seek the sympathy and alms of passersby.
"Poverty was in my face constantly," Kremer said. "No matter where you went there were beggars – people with disabilities, children in rags, old people, young people, women and men. Poverty did not discriminate in Cambodia."
The Cambodian society was completely dismantled during days of the Khmer Rouge.
"Most everything sacred in the country was desecrated – education, traditions, family structure, families, religion and, most importantly, human life. People there witnessed some of the most horrific crimes ever committed against one another. Despite it all, the Cambodian people survived. In their Buddhist beliefs they practice gentleness, compassion, peacefulness and forgiveness. How more Christian can this be," she asked.
"When I became a Cambodian missionary, I was an outsider – a Catholic. However, the Cambodian people welcomed me, just as Jesus would have… Through their welcoming embrace, they taught me how to be accepting of others. They taught me how to be both a giver and a receiver," Kremer said. "I discovered I needed them as much as they needed me."
Father Steve Angi, chancellor of the Archdiocese of Cincinnati, spent several years in China.
"I came to appreciate the strong faith of the Chinese people and their ability to remain steadfast despite trials and persecutions," Father Angi said. "I remember teaching seminarians in my apartment and their thirst for any theological knowledge. They wanted to do what was right and become good and holy priests.
"I remember one student who wanted to learn a great deal about faith and made every opportunity to seek answers to her questions and even began volunteering her time to help others. She was baptized recently. North American Catholics can learn (from the Chinese) to appreciate their faith and allow that faith to help them deal with the ambiguities of life and allow that faith to help them face their trials head on and with courage."
Francisan Sister Martine Mayborg resides with her order in Oldenburg, Ind. She served for 51 years in Papua, New Guinea, with many of her fellow Franciscan sisters.
"The beauty of the simplicity of life impressed me," Sister Martine said."It was evident in the … the way of life our mountain people lived. This simplicity to me flows into their belief and trust in God."
Sister Martine spent her five decades ministering to these mountain people "so it was truly a lifetime experience. I personally have been so blessed for having had the privilege of ministering, being and praying with our people … purely a gift which I will always treasure.
When she was missioned to Papua in 1960 Sister Martine was 24. When she returned home in 2011 she was 75. She served in the southern highlands in the Diocese of Mendi.
"As we look at the way these (mountain people) live, they have very little, but they have all they need. They have everything… They are the Church."
This story originally appeared in the October 2014 print edition of The Catholic Telegraph.