Glenmary Home Missioners celebrate 75 year legacy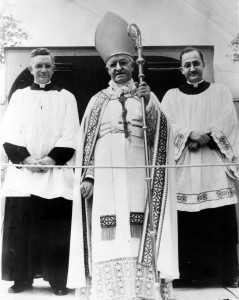 Staff Report
Over the past 75 years, 110 to 120 new parishes have been founded by a group of priests dedicated to bringing the church to rural America.
This year the Glenmary Home Missioners celebrate a 75-year legacy.
"The need still exists. With Glenmary's approach, a lot of times we are wired for small towns and small numbers. It's a match for us to go into those places," said Father Chet Artysiewicz, president of Fairfield-based Glenmary.
But, the priest shortage has limited what Glenmary can do. Today there are 36 priests, 16 brothers and 11 men in formation. But they still serve in seven dioceses: Cincinnati, Covington, Indianapolis, Knoxville, Nashville, Raleigh and Savannah. Parishes founded in Tulsa, Little Rock and northern Mississippi have been developed and returned to the home diocese in keeping with the original concept of the mission ministry. Some retired Glenmary priests continue to serve in those areas.
Glenmary was founded in Cincinnati in 1939 by Father William Howard Bishop, a rural pastor from the Archdiocese of Baltimore. When leadership in Baltimore failed to support the Glenmary idea, then Cincinnati Archbishop John T. McNicholas did. The Glenmary name is derived from Glendale, Ohio, site of the missioners' first headquarters, and Mary, the society's patroness under the title: "Our Lady of the Fields".
"I have been here 22 of the 75 years and this anniversary provides a wonderful moment to catch our breath and thank God for the good things that have happened," said Father Neil Pezzulo, Glenmary's first vice president. "Ultimately we have gone into areas that are underserved or not represented by the Catholic Church and they are all over. We look at whether there is a Catholic presence, poverty, unemployment, teen pregnancy, all of those social issues we read about every day in the papers. And, the areas we go into have averages double those numbers," he said.
Nearly 1.5 million people live within the areas presently served by Glenmary. Of these, just under 11,000- — 0.7 percent — are Catholic. About 40 percent of the total population is unchurched and the poverty level is almost twice the national average.
The challenge is daunting — particularly given the number of missioners. There are 173 counties in the southern United States without a Catholic congregation, and another 196 counties with a congregation but without a resident Catholic pastoral minister, Glenmary statistics assert.
"Yet as much as we want laity to assist us in our work, and we have lay coworkers who do wonderful things, we are looking for people who accept our order as the Glenmary way of life – priests and brothers and sisters. Looking into the future, we may not be as big as we used to be, but the bottom line is there still is a need and we can make a contribution with reduced numbers," Father Artysiewicz said.
They already are and they are making inroads.
In western Georgia, a Glenmary priest has begun to serve a Catholic community in Blakely, Ga., and a Glenmary co-worker is in Cuthbert in an adjoining county and home to the Stewart Detention Center where undocumented people are processed and returned to their native homes," Father Artysiewicz said. There are about 2,000 people at the center with a large Catholic population — many Hispanic —but others from Central America, China, Poland, Russia and other countries. Mass draws 300.
And then there is Toppa Joppa,  a farm on Joppa Mountain near Rutledge, Tenn., Diocese of Knoxville, where volunteer workers from various dioceses help the surrounding communities during week-long trips. Many are school groups.
But the development of Toppa Joppa will result in breaking down the Glenmary's Vanceburg, Ky., farm where volunteer work has been done for many years. While a retired Glenmary priest will remain in service there, he will not be replaced when he can no longer serve.
In some 40 years, about 22,000 people have contributed to the volunteer program.
"The church is growing. The church is vital, an important part of people lives," said Father Pezzulo, who travels all over the country for Glenmary. He has just returned from three small towns in the Portland, Maine diocese.
"All of them had closed paper mills – their only industry. I'm up there talking about the Church with people living in towns with no economy and small churches," Father Pezzulo said. "We at Glenmary can connect with all of that."
This story originally appeared in the October 2014 print edition of The Catholic Telegraph.