Father Pavone, Royalmont students, pray outside Planned Parenthood [Video]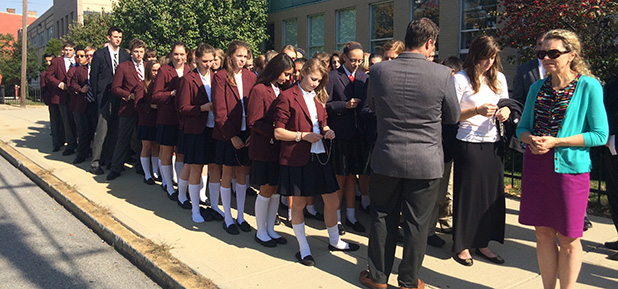 Father Frank Pavone of the organization Priests for Life joined students from Royalmont Academy in prayer Thursday afternoon, the feast of Pope St. John Paul II, near the Planned Parenthood abortion facility on Auburn Avenue in Cincinnati.
Father Pavone, in Cincinnati as a guest of Royalmont Academy, prayed the rosary in English and Spanish with a large group of students and staff from the school, alongside regular pro-life activists already present for the 40 Days for Life campaign. Royalmont Academy has an apostolic project each October, which involves older students praying outside an abortion facility. Younger students pray a rosary and do other events at the school.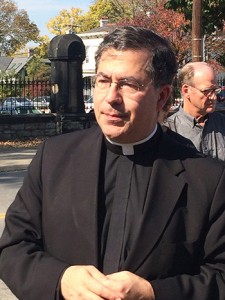 "It it such a great thing we're coming out here, some of you coming regularly, everyday. People have been coming out in front of abortion facilities in our nation for decades… Why do we do this?" Pavone said in remarks following the rosary. "People might conclude everything is peaceful. It is not peaceful here. Peace is not lost when bombs are dropped… Peace is lost when human rights are violated. Peace is lost when innocent blood is shed. That's why people come out in front of killing centers and those who represent, like this Planned Parenthood does, the largest killing business in the United States."
Father Pavone will speak tonight (Oct. 22) at 7 p.m. at the school for an event titled Reflections of Pope St. John Paul II with an opportunity to venerate a first-class relic of the saint.
"Father Frank is a friend of the school, he's been to our school before," said Tony Ferraro, executive director of Royalmont Academy. "It just worked out that he brought the first-class relic… It all kind of came together in a wonderful way today."
The event wasn't without a bit of tension. Because of graphic signs held by a particular protester unaffiliated with 40 Days for Life or the school, the Royalmont contingent chose to stand and pray on a sidewalk about a half block north, but still facing the abortion center.
This put the group out front of the Hamilton County Recovery Center. While the Royalmont group and 40 Days for Life supporters prayed, a person claiming to represent the building's occupants asked the group to leave. After being informed that those praying were within their rights, she continued to observe the group along with several others in the parking lot.
"It is always a priority at Priest for Life to encourage our young people and train them how to be pro-life activists," Father Pavone said. "This was a powerful lesson for them because they saw not only the folks that pray regularly here at Planned Parenthood, but they saw a little bit of how this can be upsetting to the local community… It upsets people and it is meant to upset in a certain sense because the violence of abortion is hidden. When people come out into the street in numbers, the neighbors take notice… That is a way of saying to the whole community that something is wrong here. Children are still being killed and this must stop."
Various members of the 40 Days for Life movement were also on hand as Father Pavone's appearance coincided with its fall campaign. To learn more about 40 Days for Life or how to participate in the fall campaign, click HERE.
Posted Oct. 22, 2015