Father Pavone to speak at Elizabeth's New Life Center banquet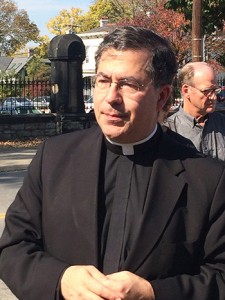 Elizabeth's New Life Center is holding the annual Spring Partnership Banquet featuring speaker Father Frank Pavone, president of Priests for Life.
Father Pavone has been invited to speak internationally on pro-life topics and is one of the best speakers in the country. The theme of this year's banquet is Creating a Legacy, as ENLC is celebrating a legacy of twenty-seven years of saving lives and empowering families.
The banquet will be held on April 7 and 8 at Sinclair Community College. Registration begins at 5:30 and dinner begins at 6:15. The event is free of charge, but donations are requested. To register, please contact Barb Garrison at 937-226-7414 or visit elizabethnewlife.org before 12 p.m. on March 28.
Elizabeth's New Life Center is one of the largest pregnancy resource centers in the country and has been helping women choose life since 1989. The Spring Partnership Banquet is a great opportunity to connect with donors and the pro-life community.
Elizabeth's New Life Center operates seven women's centers in SW Ohio providing free pregnancy tests, ultrasound scans, consulting on pregnancy decisions, material assistance, and information and education on pregnancy, adoption, abortion, marriage, and sexual health. These services saved 2,124 babies in 2015. Trained staff teach classes on parenting, workforce readiness, and more. These classes are incentivized with baby bucks that clients can spend on diapers, formula, baby equipment, and more.
To learn more visit elizabethnewlife.org or call 937-226-7414.
Press release submitted by Vivian Koob, Executive Director for Elizabeth New Life Center in Dayton.