Fatima Pilgrimage: Goodbye to Spain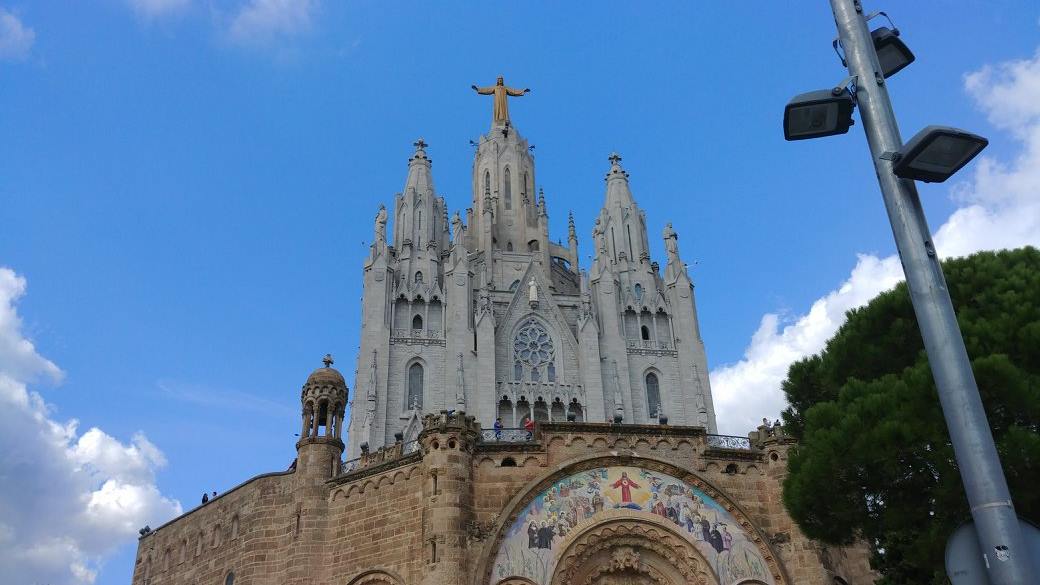 The pilgrims from the Archdiocese of Cincinnati have finished their time in Spain and are on to Andorra — next stop, Lourdes, France.
"The Catholic Telegraph's" Greg Hartman reported that the second day of the Barcelona leg of the pilgrimage in Barcelona ended on Tibiabo Hill, at the Church of the Sacred Heart, a magnificent building topped by a statue of Christ with arms extended.
"Father David Brinkmoeller preached Mass. The Gospel was Luke 8:19-21, and Father emphasized Jesus's words, 'My mother and my brothers are those who hear the word of God, and act on it,' [relating it to] Archbishop Schnurr's message to all priests and deacons expressing our solidarity with local migrants, as Pope Francis has launched a two-year campaign to encourage greater prayer and action for migrants around the globe."
The pilgrims also visited Barcelona's Cathedral of the Holy Cross and Saint Eulalia in the old section of Barcelona, a gothic building built from the 13th to 15th centuries and dedicated to Eulalia, co-patron saint of Barcelona; and Sagrada Familia, the huge unfinished church designed by Catalan architect Antoni Gaudi.
On the following day, the pilgrims traveled to Santa Maria de Montserrat, a Benedictine abbey located on the Mountain of Montserrat, which means 'serrated mountain.' Towering 4,055 feet above sea level it is home to the Virgin of Montesrrat known as the "Black Madonna and one of the most celebrated images in Spain
"Hundreds of pilgrims arrive each day to survey the this most impressive structure," Hartman said. "At noon Mass, the basilica was full. For the rest of the day some pilgrims chose to relax, while others endured a taxing 45-minute walk to a cross on the other side of the basilica. The terrain was steep, narrow, yet so rewarding for what they were able to experience.
"It's an interesting time in Barcelona," he added, "as some citizens want a Catalonian nation separate from Spain. The vote is scheduled for October 1st. Throughout our journey thus far, we can almost take a poll on the vote by how many fly the Catalonian flag, and how many apartments are draped in the Spanish flag. Word on the street is that one in three Catalonians want independence."
For extended pilgrimage reports and more photos, see our Facebook photo gallery.