Festival Guide & more in May Edition of The Catholic Telegraph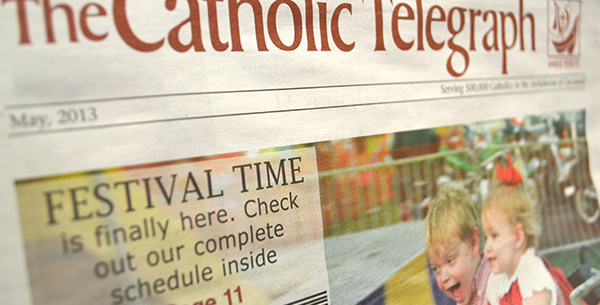 Staff Report
Though the first day of summer isn't until June, May is the month many start participating in summer activities. With that in mind, the May edition of The Catholic Telegraph includes your complete 2013 Festival Guide, listing all the festivals taking place in the archdiocese this summer.
The May print edition of The Catholic Telegraph should begin appearing homes throughout the 19-county Archdiocese of Cincinnati beginning April 25.
In addition to the Festival Guide (Click here for the digital equivalent), this edition has a letter from Archbishop Dennis M. Schnurr on the upcoming Fornight for Freedom event.
It also includes profiles on Deacon Jim Romanello and Deacon Jerry Bishop, the men about to be ordained as this archdiocese's two newest priests. Read the second installment of our series on pastoral regions, find out about the coming OHSAA ballot measure that will have an impact on private high school athletics, learn about a school principal who saved a life by giving a kidney and another who became a runner for a good cause.
There is also a special four-page Seniors section, detailing financial planning and other important information relevant to older readers.
Father Earl Fernandes Question of Faith tackles the issue of homosexual marriage and the Family Life page has activities for the whole crew. The May edition also includes our full lineup of commentaries you've come to expect.
To receive The Catholic Telegraph in the mail, email Greg Hartman or call (513) 421-3131 extension 2215. If you're not on the mailing list but would like a copy of the 2013 Festival Guide, send $2.00 to The Catholic Telegraph, 100 E 8th St., Cincinnati OH 45202 and a copy will be mailed to you.