Finding My Vocation in Catholic Schools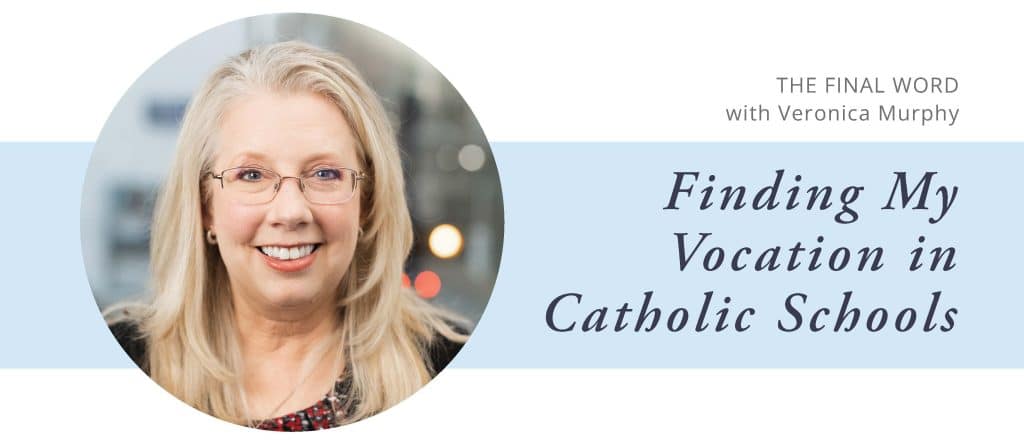 As Catholics, we believe God has a plan for every person. We are reminded in the archdiocesan vocation prayer: "Almighty Father, you have created us for some definite purpose…" Where did I first discover my purpose—my vocation? Definitely, in Catholic school! My Catholic high school principal in Maryland took me under her wing and several times asked, "What do you believe God is calling you to do with your life?"
At the time, I thought I would be a doctor because I loved science. Neither she nor I anticipated I would one day be a Catholic educator and principal! Perhaps my principal saw something in me that prompted her to ask this question. While I am not sure, I know my vocation grew out of Catholic schools' mission to form each student and call them to discern God's plan for their lives.
In Catholic schools, we understand profoundly that each person is called and has a purpose, thus, we take seriously the commitment to "form" each student. Rigorous academics and helping students be good citizens are not enough. While these are good aims, it is not the Catholic school's primary mission. We want our students to know Christ, discover God's plan for their lives and equip every student to go into our world, share Christ with others and make the world a better place. We believe that when our students discern and follow the plan God has for their lives, they will be full of joy!
Recognizing that God created in me a profound love of learning and the talent to teach others helped me to hear the call to be a teacher. From grade school through college, the process of learning to discern my vocation was developed in Catholic schools. I owe a great deal to many of my teachers and principals who helped me.
More profoundly, I also learned to discern the higher vocation to marriage. I recall the same principal, a Daughter of Charity, asking me, "Have you considered being a sister?" As an "all-knowing teenager," I confidently answered, "Sister, you have to be kidding. I have six sisters in my family and I do not intend on living with any more sisters."
Joking aside, her question stuck with me. Was God calling me to be a sister? How could I make a difference in the world? Where do I fit in? These questions swirled as a theme through my mind for several years. It made me ponder, pray and talk to God, seeking God's will for my pursuit of a religious or married life. The Lord always provides when we listen and follow. While the road to marrying the love of my life is too long a story for this article, I will say God is amazing and provided for me an incredible, faith-filled husband who is also happy I serve in Catholic schools.
As I reflect on the "path God has planned for us in this life," I find pure joy in my memories of attending Catholic schools! I know the painstaking preparation and love my teachers gave me so that I could be who I am today. Catholic schools made ALL the difference in my life!
VERONICA MURPHY is married to her husband, Bruce, and served as teacher and administrator at St. Rita (Dayton), Mother Maria Anna Brunner, Purcell Marian and Royalmont Academy Catholic schools. She is currently the Director of Religion Curriculum and Resources for the Archdiocese of Cincinnati.
This article appeared in the January 2023 edition of The Catholic Telegraph Magazine. For your complimentary subscription, click here.