Focal Point: A Look at the Local Interior Artistry of the Cross-Tipped Churches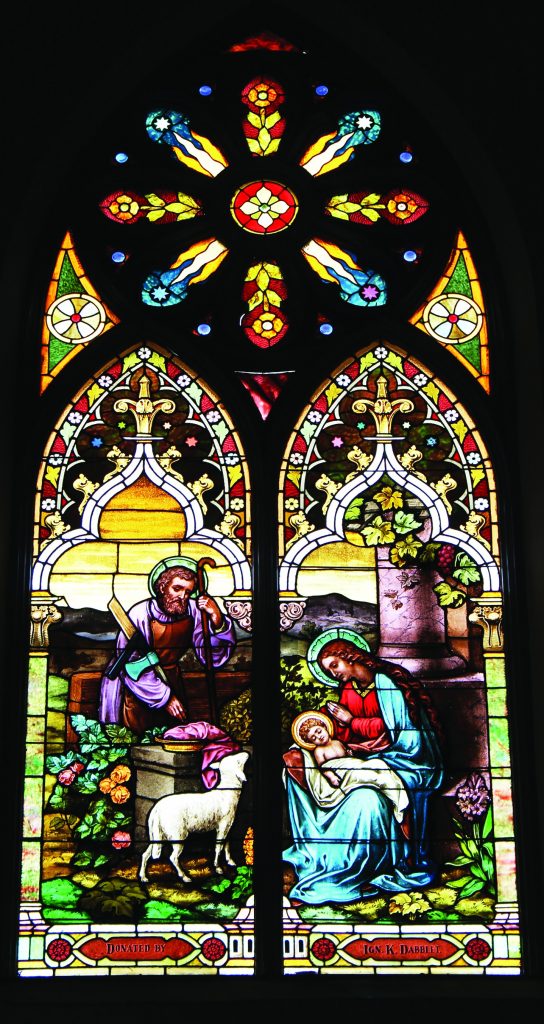 by Susie Bergman
Most of us know the saying, "It's what's on the inside that counts." We can apply this saying to buildings, structures and churches. In fact, one could even say that a beautiful church may be an architectural diamond, but if the pews are not filled each week with praying faithful, it's nothing more than a lovely shell.
Fortunately for the Land of the Cross-Tipped Churches, these structural gems are still filled each week with the faithful descendants of the area's early German and French Catholic settlers, and many contain their original interior artistry.
Underneath the tall spires of Nativity of the Blessed Virgin in Cassella, St. Mary in Philothea, St. Anthony, St. Wendelin and the Maria Stein Shrine, you will find remarkable, hand-painted ceilings that depict and honor Mary. In St. Joseph Church, east of Ft. Recovery, the
ceiling is adorned with a magnificent portrait of the Church's namesake. Other cross-tipped churches also have expressive paintings of saints framed on their walls, all crafted by Father Paulinus Trost, C.PP.S.
"Father Trost was a major contributor of religious art in the cross-tipped churches. Visitors can still contemplate the lives of Jesus, Mary and other saints when they gaze up at the masterpieces on the ceilings of their churches, just as the generations before them did," said local historian Matt Hess.
Father Trost was born into a family of talented German artists in 1856. Growing up, he learned painting fundamentals from his father and displayed his talent in America when he joined the Society of Precious Blood. He was ordained in 1885, and in 1889 he continued his studies at the Academy of Arts in Munich. When Father Trost was the rector at St. Charles Seminary, between 1904 and 1919, he designed and painted all of the art inside the Chapel of the Assumption. Prior to his ordination, he was not permitted to sign his work, but many of his pieces still hang throughout the building today and include his decorative Latin signature.
Another student of the Munich Art Academy with an artistic stamp on the cross-tipped churches was Heinrich (Henry) Schroeder. He was born in Germany in 1837, and moved to America at age 15. Settling in Cincinnati, he began his studies as a master wood sculptor, while devoutly keeping to his faith. He established a studio, the F & H Schroeder Bros., for sculpting and altar building.
While his work is visible throughout the Archdiocese of Cincinnati, it can be seen along the scenic byway inside the Maria Stein Shrine and St. Michael Church. The artistry of other German-American altar sculptors, contracted from outside of this archdiocese, can also still be appreciated there today.
"Along with Father Trost and Henry Schroeder, parishes contacted with other local artisans to fill their churches with furnishings worthy of the celebration of Mass. Although each church is an eclectic mix of artisans, not all went with local companies. Most parishes patronized American firms with German artisans at the helm, or religious art companies located in Germany" added Hess.
Similarly, the majestic stained glass that adorns these churches had artisanship both within and outside of the archdiocese. While it is difficult to find much information on the Artistic Glass Company of Cincinnati, we do know that their radiant windows are still visible in the nave of St. John Church in Maria Stein, all of St. Sebastian and St. Henry, as well as the original parts of St. Augustine in Minster.
Some final focal points worth noting are the religious statues that were created by the sisters who lived in convents throughout the area. The papier-mâché artistry, although not sophisticated in application, was done with meticulous precision and style. It was a profitable venture for the sisters, who produced large crucifixes for area churches and shrines. There are many still on display today at the Maria Stein Shrine and cross-tipped churches along the byway.
In a world full of industrialized, mass produced products that can be delivered within days, it's important for us to stop and reflect on the talent of these local artisans of the past. Their dedication to their craft, skill and prideful craftsmanship are something to be treasured.
Hess noted, "The community, in times past, took pride in procuring what was needed to build and decorate spaces uniquely beautiful and long-lasting. These treasures are still lovingly cared for today by their congregations, who are connected by the generations before them who filled the same pews under the striking cross-tipped spires."
This article originally appeared in the August edition of The Catholic Telegraph Magazine. For your complimentary subscription, click here.