Football Friday: Fenwick, La Salle last teams standing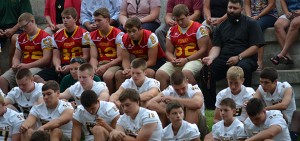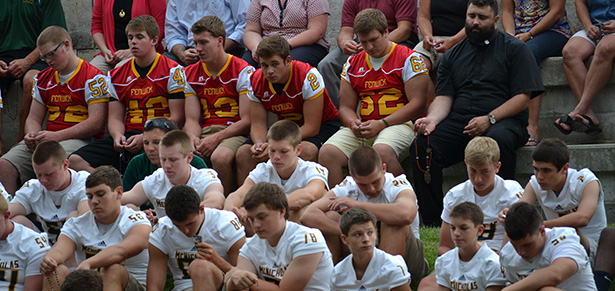 Staff Report
Seven Catholic high school football teams from the Archdiocese of Cincinnati entered the OHSAA playoffs three weeks ago, but only two remain — undefeated Bishop Fenwick and reigning Division II state champ La Salle.
The Falcons were the only Catholic school team in the archdiocese to end the regular season undefeated and that momentum has them on the cusp of playing in the Division IV state championship. Fenwick faces Franklin County's Bishop Hartley Saturday night at Wilmington High School. Kickoff is at 7 p.m.
Fenwick has reached the state semifinals after a 10-3 overtime victory against Clinton-Massie last week. The Falcons first two playoff wins came against GCL Co-Ed rivals Badin and Alter.
According to the OHSAA, Fenwick reached the state semifinals eight times in the first 16 years of the playoff system (1972-87) and is back for the first time since. On another interesting note, Bishop Hartley will be Fenwick's third Catholic opponent in four playoff games with Clinton-Massie being its only public foe.
Bishop Hartley started the season 4-3 but has since embarked on a six-game winning streak. Hartley advanced to the semifinals after defeating Bellvue 28-20 last week.
The winner of Saturday's contest will face either Youngstown Ursuline or Steubenville in the state championship game next week at The Ohio State University.
La Salle faces Perrysburg tonight (Friday)  at Piqua High School at 7:30 p.m. The Lancers have steamrolled their playoff opponents by a combined score of 143-34, including last week's 42-7 win against Kings.
La Salle's opponent Perrysburg is making its first appearance in the state final four and prior to this year had just two postseason victories while the Lancers are now two wins away from back-to-back championships.
The game marks a rare appearance this season for La Salle as the underdog. Perrysburg finished the season ranked No. 1 in the AP poll while La Salle was ranked No. 4.
If the Lancers win, they'll face Hudson or Massillon Perry in the state championship next week.
From the OHSAA:
The state championships are Dec. 3, 4 and 5 in Ohio Stadium in Columbus. Of the four divisions that play their playoff games on Friday nights (II, III, V and VII), one will be selected to play its state championship game on Thurs., Dec. 3. The other three will play their state championship games on Fri., Dec. 4. Divisions I, IV and VI will play their state championship games on Sat., Dec. 5. Specific game times will be announced on the OHSAA's twitter account the Friday and Saturday nights of the semifinals (around 10:45 PM).