Fostering Community on Campus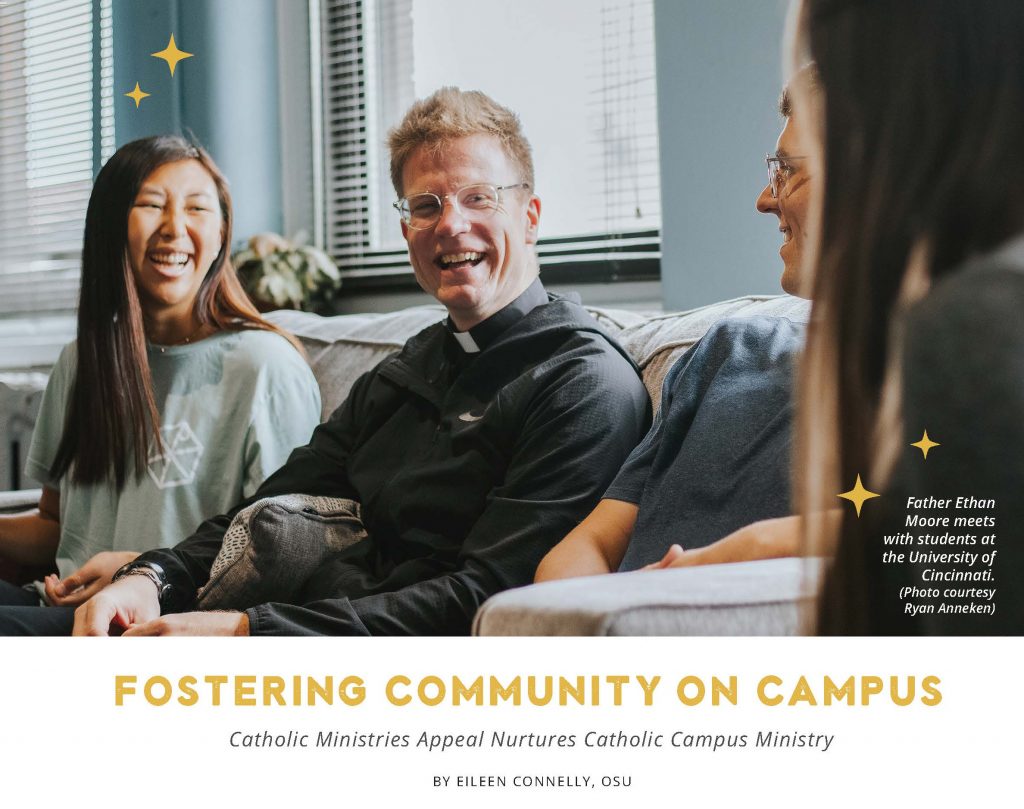 The four years young people spend in college are critical not only in the formation of who they became as they enter into the adult world, but also who they become as they mature in their Catholic faith. That's why Father Ethan Moore is so committed to Catholic campus ministry. Since last July, he has served as pastor at Holy Name Parish in Mount Auburn and St. Monica-St. George Parish Newman Center, which provides campus ministry to the Catholic community at the University of Cincinnati.
Father Moore acknowledged that COVID-19 has been "a struggle and very isolating for students. People come to college with the hope of doing new things, meeting new people, and getting involved."
Fortunately, campus ministry has helped ensure students stay connected with each other and their faith. "We are in the beautiful position that offers us the ability to connect with students who are so in need of human connection the space and ability to pray and share life," Father Moore said. This includes a Sunday evening campus ministry Mass, held at St. Monica-St. George. The candlelight liturgy is geared toward being especially welcoming for students and features appealing music and prayerful fellowship. Approximately 100 students generally participate.
Every Thursday evening when school is in session, young people can attend Catholic Bearcat Night, featuring Eucharistic Adoration and Mass, followed by dinner and a community building activity.
Students recently had the chance to participate in the SEEK21 conference through FOCUS, a Catholic collegiate outreach. The multi-day event included live- stream presentations and interactions with other campus ministries, the sacrament of reconciliation, and Mass at the Cathedral Basilica of St. Peter Chains with Archbishop Dennis M. Schnurr.
"It was really a beautiful experience that empowered student leaders to take ownership of their faith and invite their friends and classmates into ways to seek the Lord," Father Moore said.
Opportunities to seek God, experience His love, and connect with their fellow students have been essential during the pandemic, he said. "The students that are connected here are so grateful and happy to have a community. To have fellowship, something to look forward to, being able to share their love and struggles, their relationship with God and with others, is so important."
Much of the financial support for Catholic campus ministry is provided by the Catholic Ministries Appeal (CMA). Despite setbacks from the global pandemic, support for the CMA has broken all records.
" We have now surpassed our previous best CMA year in terms of dollars pledged!" said Matthew Reinkenmeyer, Director of Development Operations for the archdiocesan Stewardship Office.
He continued, "The previous best CMA was in 2013 with $5.65 million pledged, and we have now surpassed that year's total. We praise God for the generosity of so many gracious donors who have made our bicentennial year the new best CMA year on record. It is a fitting testimony to the commitment of so many across the archdiocese to radiate Christ through all the ministries supported by the CMA and to impact the lives of all those served."
Father Moore expressed his gratitude for CMA donors and the support campus ministry receives from the campaign. "We are humbled and honored that people value what we do in campus ministry at UC and throughout the archdiocese," he said. "I am so abundantly blessed to be serving in this position and want just want to be a good steward of this gift so that it may bear fruit and continue to provide opportunities for students to grow in their love of Christ."
To learn more about the CMA please visit www.aocstewardship.org
This article appeared in the July 2021 edition of The Catholic Telegraph Magazine. For your complimentary subscription, click here.