Franciscan Peddler offers sacred space to shop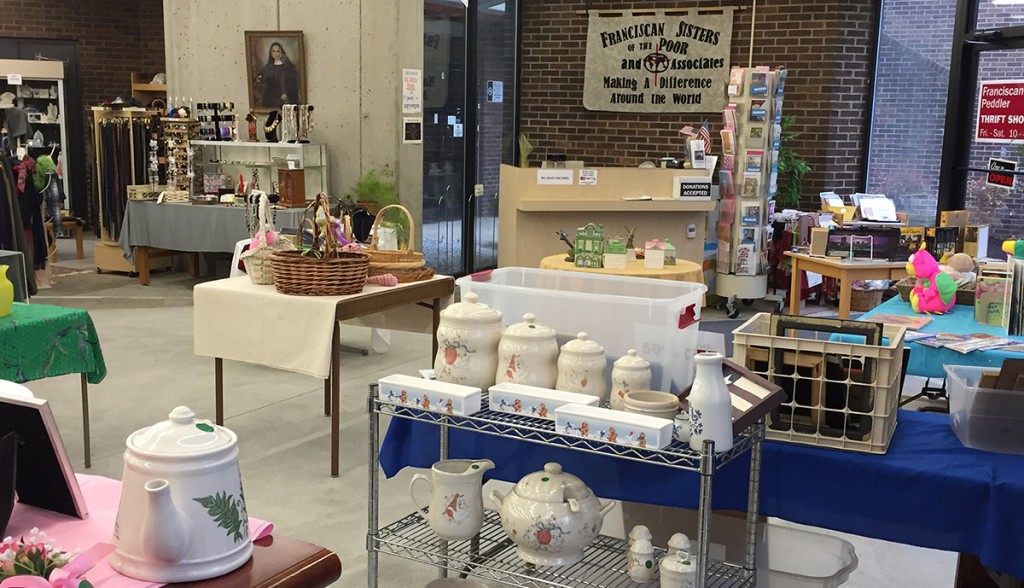 People who cross the threshold of the Franciscan Peddler Thrift Shop find more than bargains and gently used items. They find hope and friendly faces.
Operated by the associates of the Franciscan Sisters and a volunteer staff of sisters and laypeople, the Peddler is located on the campus of St. Clare Convent in Springfield Township. On Dec. 3, the Peddler will celebrate its second anniversary.
The thrift shop stands in the space that once was a physical therapy pool for residents of the former Franciscan Terrace. Repurposed in Franciscan tradition, the pool was filled in to create a permanent store that is now laden with donated and recycled items for purchase. All proceeds benefit the outreach ministries of the Franciscan Sisters of the Poor. To date this year, the Peddler has raised more than $28,000, according to Joan Mills, director of associates and the organizing force behind establishing the Franciscan Peddler.
The well-lit thrift shop artfully displays and offers an array of items, including clothing, jewelry, shoes, housewares, home décor, books, and toys. A specialty area called "The Soul Section" showcases religious merchandise. Generous donations to the Peddler come from all areas of Cincinnati, Dayton, and even New York, all places where the Franciscan Sisters of the Poor have a ministerial presence.
Donations can be dropped any time in a collection bin on a loading dock near the Peddler.
Sisters, associates, and volunteers perform the many operational tasks at the Peddler, including but not limited to sorting donations, serving as cashiers, stocking merchandise, organizing, and pricing.
Each week, volunteers work many hours to ensure that the shop is ready to open. In the receiving room, volunteers carefully inspect and select each piece of merchandise that is donated, adhering to the motto: "If you wouldn't purchase these items for yourself, then do not use it. Think Macy's II!"
"What's so amazing to me," Mills said, "is that you don't need to call and remind volunteers to come and work. They are faithful and just come and do what needs to be done. They have so much love and truly understand what this ministry is all about. Their work provides them a sense of accomplishment and camaraderie and a time to share and build friendships."
The Peddler, Mills explained, invites people to shop in a beautiful place where they are welcomed. She says the thrift shop boasts a wonderful mix of customers, from first-time "newbies" to weekly customers, including one shopper who is almost 100 years old. It is, she says, "truly a sacred place for all to meet Christ while providing affordable shopping with dignity."
Volunteers are vocal about their experiences at the Peddler. "It makes me feel good knowing that I am helping to change lives," said one volunteer. Another notes that it is "amazing what a warm, welcoming smile and a few simple acts of kindness can do for others."
"Some Franciscan Sisters of the Poor are involved in this ministry as well," says Mills. Sisters converse with customers and share wisdom and Franciscan joy. For many customers, shopping at the Peddler may be their only opportunity to interact with a religious sister.
The Peddler also provides a source of hope. "So many prayer requests were coming from Peddler shoppers that the staff placed a 'Prayer Jar' in the shop," said Mills. "Shoppers now can put their requests in the prayer jar, and those prayer intentions are remembered each month by our sisters and associates around the world."
The Franciscan Peddler also reaches out to immigrants to the local area through collaboration with Catholic Charities.
"Donating to The Franciscan Peddler Thrift Shop not only helps us to declutter our home and work spaces, it enables people in need to find what they need to live their lives with dignity and respect," Mills said. "The Franciscan Sisters of the Poor serve those who are poor and marginalized in our community along with the elderly and sick. Our thrift shop is a great resource for the 'thrifty' shopper."
The Franciscan Peddler Thrift Shop, is opened on Friday and Saturday from 10 a.m.-4 p.m., and located at 60 Compton Road.
For more information, visit www.sfpassociates.com, or call 513-761-9040, ext. 112.
This article first appeared in the December 2015 print edition of The Catholic Telegraph.