Franciscan Sister Postulant Tricia Oswald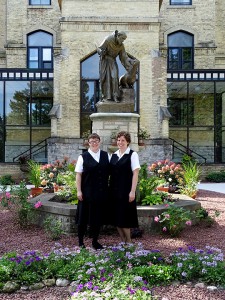 One of the Franciscan Sisters' of Christian Charity newest postulants is Tricia Oswald from Ohio. Recently, along with postulant, Megan Kugel, she answered questions from discerning women about her Franciscan calling, and the charism of her new congregation.
What was it about the Franciscan Sisters that drew you?
"What drew me to the Franciscan Sisters was being around them since 1st grade. It wasn't until 6th grade that it really hit me that I was being called. I had always wanted to teach as well and it just made complete sense for me to do both. I had never really felt any kind of pull to another order. Besides the familiarity with this order they had a good balance between contemplative and active styles."
"I prepared for this decision by offering up a lot of prayers. I also sought out my spiritual director who helped guide me on this path, although he only walked with me and did not influence me in either direction of what to do."
What are some of your favorite things or events at Holy Family convent?
"One of my favorite things at Holy Family Convent is when the community comes together at various times in the day for prayer. It is very peaceful. I'm from Ohio but I'm a proud Steelers fan. I like to read many different types of books. I like nature so taking a walk outside around the grounds is always a treat."
What are you most looking forward to in this Journey of Religious Life?
"Being with Jesus, and being with His people, and helping people come to Jesus. That's why I wanted to become a sister. If I could meet any Saint it would be between Saint Mother Teresa and Saint Anthony of Padua. St. Mother Teresa showed amazing faith in God's plan for her and shared such joy. She was also very wise. St. Anthony brought many sinners back to God and was a Franciscan… the finder of lost things but of lost people as well. "
The Franciscan Sisters of Christian Charity serve in Catholic Health Care, Education, Parishes and Special Ministries in Ohio, Mississippi, the Upper Midwest and the Central and Southwest United States. Learn more about the Franciscan Sisters' latest ministries and vocations at https://fscc-calledtobe.org/
See all Tricia's questions and answers here:   https://www.youtube.com/watch?v=w4m-bCqPENI