Friday Photo: Catholic Press in a Cathedral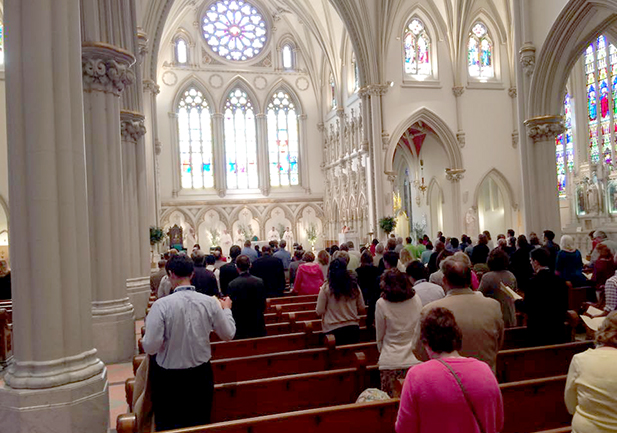 Staff Report
Today is the final day of the annual Catholic Media Conference. At this event, members of the Catholic Press Association and other Catholic media organizations come together to share best practices, network and engage in fellowship.
The Catholic Telegraph's New Media Editor, John Stegeman, is attending the conference and snapped the attached photos with his iPhone during the CMC's opening night Mass.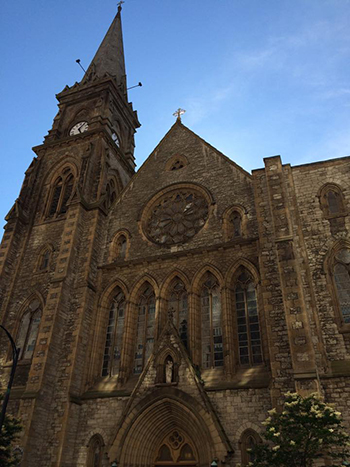 The photos are of St. Joseph's Cathedral, the cathedral of the Diocese of Buffalo, New York. Mass was celebrated by Bishop Richard J. Malone.
Editor's Note: Follow John on Twitter HERE.
Construction began on the Gothic Revival-style church in 1847 and it was dedicated in 1855. Mirroring the history of Cincinnati's Cathedral of St. Peter in Chains, St. Joseph's went through a time where it ceased to be the diocesan cathedral. In St. Joseph's case, a new structure replaced it from 1915 until 1977 when the new St. Joseph's was torn down and the original became a cathedral once again.
Previous Friday Photos
Hear in the Silence of Old St. Mary's
Commit your work to the Lord
Take me out to the ball game
Summer nights, festival lights
Taking the Plunge
Cinco de Mayo
Welcome to Friday Photo. A post where The Catholic Telegraph staff select an image that shows the vibrant life of the faith community in the Archdiocese of Cincinnati, and around the world. To submit a photo for consideration, email John Stegeman with "Friday Photo" in the subject line.
Posted June 26, 2015