Glenmary Brother Terry O'Rourke dies at 82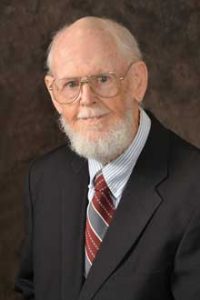 Longtime brother served for nearly six decades
CINCINNATI (March 13, 2017)-Brother Terry O'Rourke (baptized James Michael O'Rourke), former Glenmary second vice president and a Glenmary Home Missioner for 58 years, died March 10 in Cincinnati, Ohio. He was 82.
Brother O'Rourke's ministry in Glenmary included working for 15 years on the Brothers' Building Crew, a collection of Glenmary brothers who did construction work. Brother O'Rourke and his working partner, Brother Paul Wilhelm, helped build dozens of houses, churches, rectories and other structures, including the present Glenmary headquarters building in Fairfield, Ohio.
"Brother Terry was a man of depth and integrity," said Glenmary president Father Chet Artysiewicz. "While the tasks of his ministry may have appeared simple, there was a profoundness in his motivation of what he did – for God and neighbor. His integrity was apparent from his commitment to the poor and Gospel values. He was an example to us of those priorities."
A native of Chicago, Ill., Brother O'Rourke made his first oath with Glenmary on May 21, 1958. While assistant prefect of brothers in Cincinnati from 1961 to 1970, he earned a bachelor's degree from Xavier University. In 1985, after his building crew years, Brother O'Rourke became associate director for Glenmary's House of Study in Washington, D.C. At that time, he earned a certificate in spiritual direction from Washington Theological Union.
In 1987, he was elected to the first of two terms as Glenmary's second vice president. Following his second term, Brother O'Rourke earned a master's degree in pastoral studies from Loyola University. He was next assigned to then-Glenmary mission St. Francis of Assisi, in Aberdeen, Miss. During that assignment, Brother O'Rourke assisted in training service dogs to help the disabled. Brother O'Rourke also participated in four Glenmary chapters.
He took senior status in 2004 but remained active. In 1996, Brother O'Rourke started a local food pantry in Aberdeen. He continued to manage the pantry until 2010. He moved to the Glenmary Residence in Cincinnati in 2016.
The youngest of eight children to Eugene and Mary O'Rourke, Brother O'Rourke is survived by his sister Loretta (James) Coogan, and his brother Father Robert O'Rouke, a priest with the Columban Fathers.
Reception of the body will take place at 4:30 p.m. Wednesday, March 15 at Our Lady of the Fields Chapel, 4085 Glenmary Trace, Fairfield, Ohio. Visitation will follow from, 5-7 p.m., and a wake service will begin at 7 p.m.
Mass of Christian Burial will be at 10 a.m. Thursday, March 16 at St. John Neumann Church, 12191 Mill Road, Cincinnati, Ohio. Burial will follow at Gate of Heaven Cemetery.
Memorials may be made to Glenmary Home Missioners, P.O. Box 465618, Cincinnati, OH 45246-5618. Newcomer Funeral Home is assisting with arrangements.
---
About Glenmary Home Missioners

Glenmary Home Missioners (aka the Home Missioners of America) are a Catholic society of priests and brothers who, along with coworkers, are dedicated to serving the spiritual and material needs of people living in mission counties throughout Appalachia and the South.