Glenmary priests and brothers visit Islamic Center of Greater Cincinnati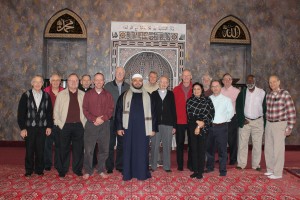 By John Stegeman
Glenmary Home Missioners
Less than 24 hours after an attack on The Ohio State University campus by a self-identified Muslim, a group of priests and brothers from the Cincinnati-based Glenmary Home Missioners entered a mosque to learn more about Islam, the world's second-largest faith behind Christianity.
Though independent of Archdiocese of Cincinnati interfaith efforts, the Glenmarians' visit follows a pattern of outreach modeled by Archbishop Dennis M. Schnurr. The archbishop visited the Islamic Center of Greater Cincinnati (ICGC) in 2010, and received a delegation from the center in 2015, giving them a tour of the Cathedral of St. Peter in Chains.
Glenmary president Father Chet Artysiewicz, first vice president Father Neil Pezzulo and 12 others toured ICGC in West Chester on Nov. 29. The Glenmarians planned the visit after a district meeting, which discussed among other issues, racism. The national discussion about Islam and refugees precipitated by the presidential election, and Glenmary's longstanding ecumenical attitude played a role as well.
Ecumenism, that is to say working alongside fellow Christians, has long been a part of Glenmary's mission. Given that home missioners serve primarily in rural parts of Appalachia and the South, the opportunity for Glenmarians to interact with Muslims have been limited.
"It was very much that ecumenical spirit of reaching out to our neighbors and growing in faith and sharing our understanding with them (that prompted this visit)," said Glenmary Brother David Henley, who organized the outing. "We don't have that opportunity in the mission areas to do that."
ICGC Imam Hossam Musa said the mosque frequently receives non-Muslim clergy and lay people for tours and talks, and welcomes the interaction.
"We have very strong interfaith partnerships, and we try to not just do that with the leadership, but we also preach to our congregation how to love and respect and care for your neighbor genuinely as that is the core of our faith," he said. During the tour, Imam Musa shared a vision of mutual respect. "I think it is important that we send the message that we as faith leaders are instructing (the people) according to our faith, according to what Jesus would do with his Muslim neighbor, what Moses would do with his Muslim neighbor?"
Imam Musa said understanding in the local area has grown, but in the wake of attacks like the one at Ohio State, there is sometimes fear in his community about possible retribution.
"Sometimes it does worry us when incidents such as that take place that some sort of reaction could come about on innocent individuals that happen to be from the Muslim faith," Musa said. "There is somewhat of an obvious knee-jerk reaction that you may expect here and there, but I think people are much wiser than that in general. It is a terrible, terrible incident that took place (at Ohio State). Our prayers go out to the victims and the victims' families and to all of us as we're all victims of that kind of horrible and unacceptable behavior."
On the tour, Glenmarians listened to Shabana Ahmed, tours and talks chair at ICGC. She explained that there is no "cookie cutter" Muslim, as the 1.6 billion-member strong religion has people from all walks of life, and they hail from many countries. She noted that less than 20 percent of Muslims reside in the Middle East and North Africa. The country with the most Muslims is Indonesia, followed by Pakistan and India. Between 20,000 and 30,000 Muslims reside in the tri-state area around the mosque.
"I think it's important to engage, especially Muslims, because beyond the fact of their sheer size and world impact, understanding the religion and the people helps address a very sensitive issue for our own country," Father Artysiewicz said. "There is a tremendous diversity of opinions about Muslims in the U.S. The recent political climate only exacerbates what has been a continuing divisive issue. Contact with Muslims who are decent human beings, good citizens, and people who decry terrorism can only help us live in greater harmony."
The Catholic Church was well established when Islam came onto the scene in the 7th Century. Political affairs, in addition to religious differences, led to much conflict over the centuries, but in 1964 Pope Paul VI wrote Lumen Gentium (Light of the Nations). The document was promulgated by the Second Vatican Council and stated, "But the plan of salvation also includes those who acknowledge the Creator. In the first place amongst these there are the Muslims, who, professing to hold the faith of Abraham, along with us adore the one and merciful God, who on the last day will judge mankind." Similar language was included in the Catechism of the Catholic Church, published in 1992.