God is Big Enough to Take It
"Prayer is a launching of the heart toward God." – St. Thérèse of Lisieux
I have a front row seat to intense suffering these days. A friend just delivered a stillborn son. Another friend's husband was laid off just months after they moved out of state for his job. Still another learned his spouse's gambling addiction has driven them half a million dollars into debt. And another friend spends her days lying face down, recovering from multiple emergency eye surgeries.
This litany isn't exhaustive. It seems that in every direction I look, there is a serious hardship heavy enough to crush one's spirit. As a cradle Catholic, I've heard "offer it up" more times than I can count, but it's a challenge to understand what that looks like practically. And if we don't know how to offer our agony to our loving Father, it's all too easy to feel hopelessly stuck in whatever we endure.
I recently wrote about my family's first dinner with our bishop. Over another far more comfortable dinner, my bishop casually asked, "How's your prayer, Katie?" My dad recently passed away, despite my fervent prayers for his survival, and my heart was hardened and weary. I tried to dodge the question, but Bishop persisted. I admitted I wasn't currently on speaking terms with God. I was heartbroken and angry. Bishop told me to go right ahead and inform my Creator that I was mad, "He can take it. He's big enough."
Hesitant to offer anything other than polite prayer to the Lord, I took my bishop's orders and, in the privacy of my bedroom, unleashed my anger. Face turned toward heaven, I screamed at God, hollering not only about my dad's death, but also about the other miseries within my soul. I don't know how much time passed before my screaming turned to crying. I launched my heart at God, and He showed me that beneath its hardness there was deep sorrow. I then understood that this was part of "offering it up" to God; to launch my heart in full honesty at Him, knowing He's big enough to take it, and further, that He wants it.
Being real with Jesus cracked my heart open to again allow Him in, which I didn't mean to do. When we're suffering, it's tempting to hide behind God's omniscience; He knows we struggle, so why does He need us to tell Him? Though Jesus certainly knew the depth of my heartbreak before I shook my fists heavenward, telling Him allowed us to connect after I had stonewalled Him for so long.
I learned that God stays with us. He doesn't abandon or distance Himself from us. Blessed Julian of Norwich, a mystic from the 14th and 15th centuries, wrote, "God is nearer to us than our own soul, for He is the ground in which it stands." We are inseparable from God, though sometimes we feel hopelessly adrift from any sign of His presence. Still, He remains and is consumed with love for each of us individually.
In her diary, St. Faustina wrote, "When God allows suffering to a soul, He upholds it with a greater grace." Though any affliction can be blind to this grace, I've lately asked God to make His support all the more obvious to me. I need it to have hope. Looking back at prior trials also helped me point out to myself how God was actively loving me then, even though I couldn't identify it at the time.
None of us will pass through this world unscathed, unscarred. Be quick to launch your heart toward God, no matter the condition it's in. Pure honesty with the One who loves you so much will give you eyes to see His unfailing presence.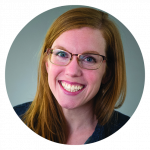 Katie Sciba is a national speaker and Catholic Press Award- winning columnist. Katie has been married for 14 years and is blessed with six children.
This article appeared in the June 2023 edition of The Catholic Telegraph Magazine. For your complimentary subscription, click here.