High Schools Giving Back: La Salle, McNicholas & Ursuline Academy
La Salle High School
For more than 15 years, La Salle High School has served communities outside of Cincinnati as part of the Lasallian Youth Service Immersion Trip (LYSIT) program.
During the summer of 2018, over 45 students and adult chaperones served Give Kids The World (Orlando, Fla.), St. Bernard Project (New Orleans, La.) and SWAP (Hindman, Ky.) with more than 900 service hours.
Robert Sinkhorn '20 and Josh Trabel '19 are pictured preparing lunch treats at the Give Kids the World Café during their trip in June.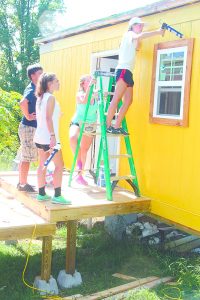 During the 2017-18 academic year, students and staff from Archbishop McNicholas High School participated in three mission trips, each one to the Glenmary Home Missioners on Joppa Mountain in Grainger, Tn.
About 120 students immersed themselves in the Appalachian culture and helped residents complete home improvements, winterization, spring clean-up, and general maintenance activities.
In June, the students were counselors at a summer camp, and on all trips, they participated in visits and social time with young and old in the ministry of presence on the mountain.
Thirteen students and two faculty chaperones from Ursuline Academy traveled to Pine Ridge Reservation in South Dakota for a summer mission trip from June 2-8.
Krista Diehl, coordinator of community service at Ursuline, handled all the logistical details of the service week, including housing, meals, service sites, and evening programming that featured prayer and the opportunity for reflection. The trip enabled students to deepen their understanding both of self and Native American and poverty issues.
Pictured is Gabby Lusby '19 with a new friend.