The Final Word: Celebrating Hispanic Catholic Culture
Growing up in Guatemala, I went to a Catholic School, celebrated our Catholic faith – Catholicism was all I knew. Guatemala, at the time, was probably 99 percent Catholic.
Moving to the U.S. was a big change in every way. When I moved here, directly from Guatemala to Ohio, I didn't speak the language. I did not look like everyone else, and I didn't have any family members here. What kept me sane was going to church, Mass, having that feeling of familiarity and knowing that God was with me all the time. What a great feeling: a feeling of comfort, a feeling of strength, a feeling of home!
In my ministry with the Archdiocese of Cincinnati, one of my priorities is to help members of the Hispanic community feel at home. Many of the people that I accompany in my ministry are the "little ones" (Mt 11:25-30). They radiate Christ in their fidelity.
This can be seen in our many gifts of spirituality, simplicity, generosity and importance of family and community. Faith is an important part of our daily life and is conveyed in numerous ways. Many families in our community have home altars that express our Catholic love for life and the faithfulness and devotion to our Blessed Mother.
The history of Hispanic Catholics in our country is long. We bring strong family values with the beauty of our faith, culture and language. Hispanic immigrants come from every Spanish-speaking nation in the world, with different levels of education, cultures and religious traditions. Our contributions to the Catholic Church have been vibrant and unique.
Some aspects of liturgy are especially important to Hispanics. Music from their native country at Mass is expressed through a variety of instruments. Posadas are celebrated in Advent, three kings in Epiphany, acting out the Stations of the Cross in Lent. We demonstrate our devotion to our Blessed Mother by reciting the Rosary and celebrating Marian feasts, particularly Our Lady of Guadalupe. Mass for Our Lady of Guadalupe on December 12 is as packed as the Masses on Easter and Christmas. It is a tradition at this Mass for whole families to attend, with children dressed in their country's native clothing.
I am so thankful to our Lord for leading me down this path, where I can be an instrument to those looking for a space where they can feel safe and at home. Many of our fellow Catholics in the Archdiocese of Cincinnati have had to leave behind their family in order to flee violence, corruption and poverty. It is their strong faith that sustains them.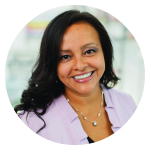 KARLA EYSOLDT is married to Matt, and they have four children. They live in Mason and are parishioners of St. Susanna. Karla is the coordinator of Hispanic Ministry for the Archdiocese of Cincinnati. Her vocation is helping the less fortunate, and she loves helping the Hispanic community; her passion is bringing healing to people that have been through a traumatic or stressful experience. In her free time, she enjoys time with her family and friends and being outdoors.
This article appeared in the September edition of The Catholic Telegraph Magazine. For your complimentary subscription, click here.