Holy Angels Outreach Committee brings love worldwide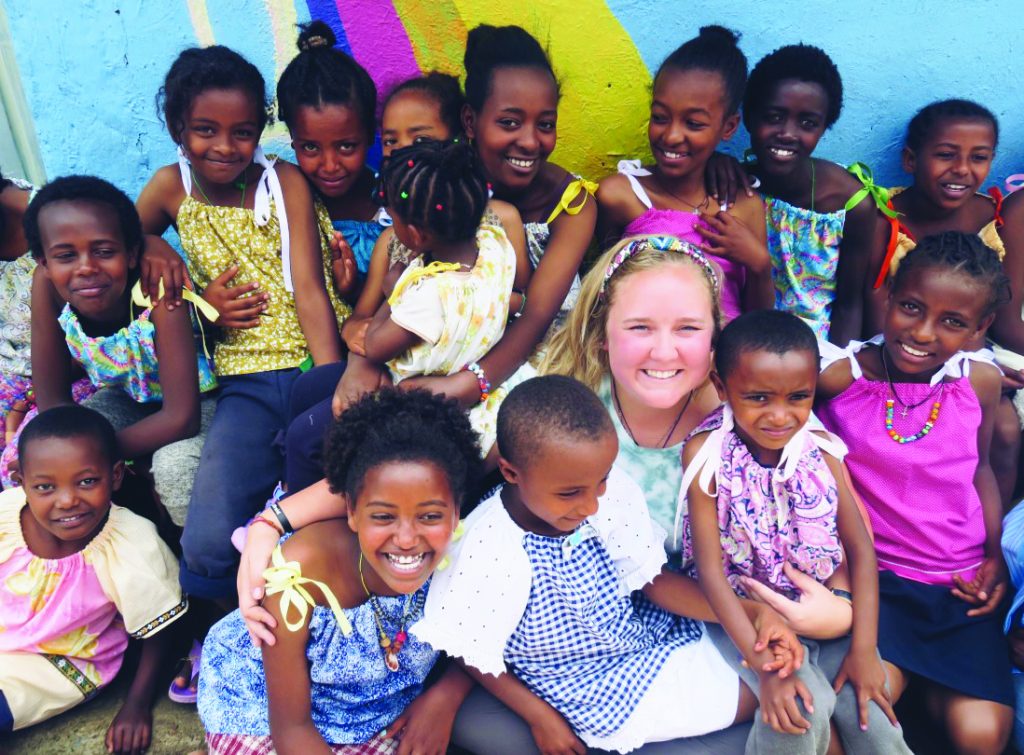 By Sharon Semanie
When musical artist Jackie DeShannon recorded the lyrics to "What The World Needs Now Is Love" in 1965, she couldn't have envisioned that a tenacious group of women in Shelby County would put those words into action decades later. An estimated 100 women from the Holy Angels Catholic Church Outreach Committee, as well as Maria Stein, are the catalysts behind myriad projects benefiting individuals worldwide, from Kenya to Puerto Rico.
According to Judy Zimmerman, group leader, a former teacher at Lehman Catholic High School, and Jeanne Schlagetter, also a retired educator, the Outreach Committee has been in existence over five years. In that time, members have collected nearly 5,000 dresses for newborns to teens, handmade by parishioners and neighbors in the Maria Stein area. Dresses and boys' shorts have been sent to Puerto Rico, the Philippines, Haiti, Honduras, Ghana, Tanzania, Chile, Kenya and Ethiopia. The shorts were introduced, explained Zimmerman and Schlagetter, when two African boys adopted by a parishioner arrived wearing dresses.
Zimmerman said the impetus behind the dress project began in February 2013, when a group of 50 mothers and their daughters, all members of a Girl Scout troop, congregated in the Holy Angels cafeteria and began crafting Linus blankets, along with rosaries and other items, for those in need.
Anxious to recruit more parishioners to "get involved in outreach," the two women began putting together kits (including fabric, ribbon and directions), which they placed in bins in the parish "connector" hallway for parishioners to take home and sew. One parishioner, Linda Thieman, they said, has completed 80 mission trips to Haiti and delivered nearly 2,000 dresses to girls living on the impoverished island.
"It's the most awesome feeling seeing photos of girls (overseas) wearing our dresses and being able to say, 'I made that one,'" said Zimmerman.
The committee's ambitious efforts have extended beyond dresses to include prayer shawls, baby blankets and fleece blankets for the needy, as well as pillow cases for veterans. Their handmade items have been given to Brigid's Path, Rustic Hope, Right to Life, the Women's Center, fire stations, Wilson Hospital in Sidney, Dayton Children's Hospital, and Jobs and Family First, among other organizations. In recent years, knitting and crocheting have been added to the list of talents, with prayer shawls and bereavement blankets sent to Africa and elsewhere.
Both Zimmerman and Schlagetter depend on the generosity of others and grants to cover the cost of materials. The active duo spend an inordinate amount of time "shopping for (fabric) bargains" at WalMart and JoAnn Fabrics. They also welcome donations from parishioners who've "been cleaning out their mother's closets and attics."
In addition, monies are received from raffles and bake sales, along with $7,000 raised from their participation in area Fair Trade Sales. "Fair trade," they noted, "is a business model that seeks to maximize benefits to farmers and artists instead of profits for investors."
Outreach Committee organizers said the next Fair Trade Sales will be held at the Ross Historical Center in Sidney on Nov. 16 and 17, and will feature women's enterprises from Denver, Guatemala and Ghana. Items will include coffee, tea, chocolate, baskets, Christmas décor jewelry, home decor, items for babies and children, soups and samples of soups coffee and tea. Local artists will also have featured items along with pumpkin rolls, banana bread and cinnamon bread.
One of the unique ministries organized by the committee includes Wrapped in God's Love afternoons of service. Sewing machines are humming and knitting needles are clicking when the group gathers at either the Shelby County YMCA, Maria Stein Shrine or Sidney Knights of Columbus Hall to pursue their sewing and knitting projects. Schlagetter and Zimmerman breathlessly describe project after project being undertaken by the committee, including forums on heroin, human trafficking and refugee resettlement.
Most recently the group joined members of a Nazarene church in Sidney to provide meals for 32 Puerto Rican families who have been resettled in the Sidney area in the aftermath of Hurricane Maria. Thirteen members of the group showed up in "HA" aprons to serve meals provided by the Spot Restaurant, Holy Angels Soup Kitchen and the Bridge Restaurant.
Many within the Puerto Rican contingent, they learned, arrived with only a suitcase and represented mostly men who were provided employment at Norcold Inc., a Sidney manufacturer. It didn't take long before Schlageter and Zimmerman joined forces collecting blankets, sheets, towels, and other household items, all kept in Zimmerman's garage. Seven car loads later, items were distributed to the men during a "free garage sale," attended by Father Frank Bamberger, Holy Angels pastor, seminarians and others.
Zimmerman said many of the hurricane victims, including a chemistry teacher, three nurses and a police officer, are resettled in Sidney and are part of Norcold's workforce. Several shipments of handmade clothes have also been sent to Puerto Rico by the committee. The "take away" from providing this ministry is simple for Schlagetter. "It enables me to live out my faith and provides me with a realistic way of accomplishing something," she said.
Zimmerman acknowledged the efforts of this "joyful group," who are primarily of retirement age, and extended an invite (especially to men and youth) to join in their good works.
When asked how projects come to fruition, she laughed and said, "We just do it and seek forgiveness later."