Holy Door of Mercy Closing at Maria Stein Shrine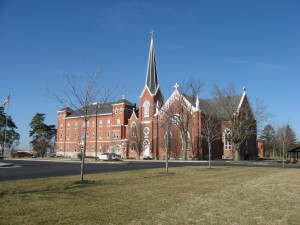 MARIA STEIN, Ohio  – As the Year of Mercy comes to an end, Maria Stein Shrine of the Holy Relics will host a gathering to officially mark the closing of the Holy Door that leads to the Relic Chapel on Nov. 20 beginning at 2 p.m.
The event will begin with pilgrimages of mercy, followed by reconciliation, Eucharistic adoration and mercy reflection. At 4:30 p.m. the Holy Door officially closes. The day will be led by Missionary of the Precious Blood, Father Tim Knepper. Father Knepper has been commissioned by Pope Francis to be a Missionary of Mercy for this Holy Year.
"The afternoon will be a celebration of the graces that the community has received by walking through this Holy Door of Mercy at the Shrine," said Matthew Hess, coordinator of ministries and hospitality for the Shrine. "The Maria Stein Shrine is blessed to have been granted one of seven holy doors in the Archdiocese of Cincinnati for the Extraordinary Jubilee Year of Mercy called by Pope Francis."
"The Holy Door is a way of symbolizing Christ, who is the gate of heaven," Hess continued. "Just because we are closing the Holy Door does not mean we should close off our hearts to receiving and showing mercy, just as Christ is merciful in granting us salvation for all eternity. We will celebrate the gifts of this past year and encourage continued prayer and action through the coming advent season and new calendar year."
The Year of Mercy was declared by Pope Francis on the Feast of the Immaculate Conception, Dec. 8, 2015. The doors to the Relic Chapel are one of the seven holy doors in the Cincinnati Archdiocese as declared by Archbishop Dennis M. Schnurr.
There is no charge to attend this event, however a free will offering will be taken.
The Maria Stein Shrine of the Holy Relics provides faith nourishment and spiritual renewal through opportunities for prayer and pilgrimage and inspiration from the lives of the saints. People from around the world visit the shrine to explore and enjoy this environment rich in holiness and history. The Relic Chapel is home to the second largest collection of relics of the saints in the United States.
The Shrine is located at 2291 St. John's Rd. in Maria Stein. To learn more about the Maria Stein Shrine of the Holy Relics, visit www.mariasteinshrine.org.