2016 Jubilarians: Precious Blood Sisters & Ursulines of Brown
The staff of The Catholic Telegraph wishes to express our gratitude to the following Precious Blood Sisters & Ursulines of Brown celebrating jubilees in 2016 for their steadfast faith and dedicated service to the Archdiocese of Cincinnati.
Precious Blood Sisters
75 years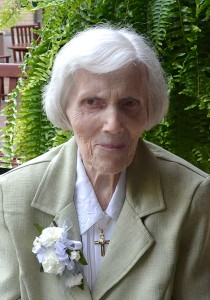 Sister Joanella Whaley
A native of Chicago, Sister Joanella originally met the Sisters of the Precious Blood in Phoenix, Ariz,
After formation, she spent 45 years ministering in dietary at Oceanside, Calif., Phoenix, Denver, Cincinnati and Dayton. She was an excellent cook who enjoyed serving a meal that was pleasant-looking, nourishing and delicious. She later prepared altar bread that would become spiritual nourishment.
In retirement she lived at Salem Heights in Dayton, moving to the Maria-Joseph Center in Dayton in 2012. She continues to share community with the sisters by dining with them and other residents, attending daily Mass and participating in activities.
"I marvel at the presence and action of God in my life," she said. I have been living "the fulfillment of my childhood dreams."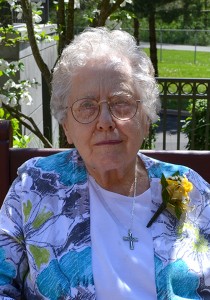 Sister Rita Yahl
A native of St. Marys, Ohio, Sister Rita attended Holy Rosary School and Memorial High School in St. Marys. She worked for a year after high school before entering the congregation.
She began her ministry teaching primary grades in North Dakota and Phoenix, Ariz. She then taught in North College Hill and Bellefontaine before moving to Marion Local High School in Maria Stein, where she taught home economics for 25 years. While teaching at Marion Local, she assisted in ministry at Maria Stein Shrine and Retreat House.
After retiring in 1986, she volunteered in the shrine's gift shop. She moved to the congregation's central house in Dayton in 2006.
60 years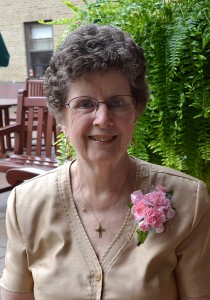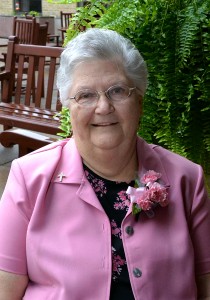 Sisters Arlene Hirsch and Mary Ann Mozser
Cleveland natives Mary Ann Mozser and Arlene Hirsch have been life-long classmates. They attended then-Our Lady of Good Counsel School together, Precious Blood High School in Dayton together and entered the Sisters of the of Precious Blood together. They professed their vows on the same day.
Ministry, however, called them to separate paths.
Sister Arlene volunteers with a Dayton crisis nursery for drug-addicted newborns. She is also a cheerful presence for the sisters living at the Maria-Joseph Center in Dayton.
The first 12 years of her ministry were spent in elementary education. She then began working as director of religious education and later pastoral associate at parishes in Ohio at Coldwater, Parma and Lakewood. She served as coordinator of the Sisters at Emma Hall in the Maria-Joseph Center for 14 years. That was followed by stints at the Sorrowful Mother Shrine in Bellevue, Ohio, and the Maria Stein Shrine in Maria Stein before she retired from paid ministry in 2007. She has since been an active volunteer.
"This jubilee calls me to sing in thanksgiving for the gift of having been called to this congregation and to cherish the Sisters who have shared the journey and their lives with me," she said.
Sister Arlene lives in Dayton.
Sister Mary Ann spent 42 years in elementary education as a teacher and administrator at schools in Ohio at Cincinnati, Dayton, Cleveland and Shaker Heights, including 14 years at Good Counsel. She then served as vice president of mission and ministry at St. Vincent Charity Medical Center in Cleveland from 2003-14, when she retired. Sister Mary Ann continues to minister at St. Vincent in an unpaid position as coordinator of volunteers.
"I know with the assurance of a deep faith that the redeeming love of Jesus expressed through healing and reconciling has been extended to me in so many ways," she said. "My hope and prayer is that I have been a conduit for that same healing and reconciliation in my ministry to others, in my life and service within the congregation."
She lives in Parma, Ohio.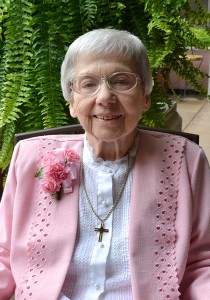 Sister Margie Zureick
Sister Margie grew up in Golf Manor and graduated from the former-Our Mother of Sorrows School in Roselawn and the former Regina High School in Norwood.
She spent 32 years ministering to the poor as pastoral associate and outreach coordinator in eastern Kentucky during five separate assignments. While serving in Campton, Ky., she helped establish the only Catholic parish in Wolfe County and later opened a laundromat in Elkhorn City, Ky. near the Virginia border to provide a needed service and local jobs. She also served in McKee, Berea and Beattyville, Ky.
Sister began her ministry as an elementary school teacher for 13 years in Ohio, California and North Dakota. She also served as the congregation's novice director and was a counselor at Mercy Manor in Dayton. She retired to Salem Heights in Dayton in 2015.
"I appreciate the overwhelming love, support and care that I have received from Sisters in community, the staff at Salem Heights and friends," she said. "Jubilee thanks to each and every one."
50 years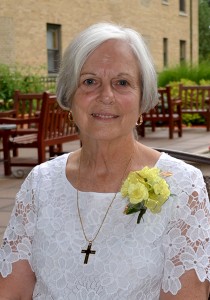 Sister Margo Young
Sister Margo, a physician, is director of community health at Community Hospital of San Bernardino and St. Bernardine Medical Center in San Bernardino, Calif. She was raised in Manteca, Calif., and graduated from St. Anthony School in Manteca and San Luis Rey Academy in Oceanside, Calif.
Her first six years in ministry were as an elementary school teacher in Ohio and Colorado. She was director of pastoral care at the Maria-Joseph Living Care Center in Dayton for five years and was then a hospital chaplain in Ohio for five years before entering medical school. She also spent 13 years as a medical missionary in Guatemala.
"As an educator, counselor, spiritual companion and physician I seek to bring healing and wholeness as I walk with God's people in mutual respect and compassion," she said. "Drawn to the margins, I passionately embrace those most in need be they homeless, undocumented, HIV positive, transgender or mentally ill."
She lives in Redlands, Calif.
Ursulines of Brown County
70 Years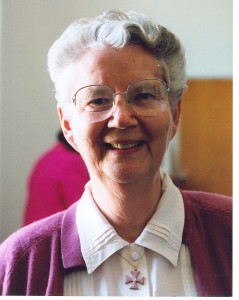 Sister Rosemary (Raphael) Grueter entered the Ursulines of Brown County in 1944. She took her final vows Aug. 9, 1949. Sister Rosemary attended Good Samaritan Hospital School of Nursing after which she became the nurse for both her community and the boarding students attending the School of the Brown County Ursulines in St. Martin, Ohio. During that time, she also served on the community's Leadership Team. After the closing of the school, Sister Rosemary became the director of maintenance and later secretary to the congregational minister for many years. Presently she resides at Mt. Notre Dame Health Care Center in Reading.
25 Years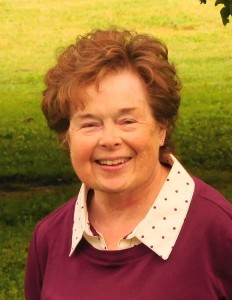 Sister Debbie Lloyd was born in Troy, NY. She entered the Ursulines in 1988. She took her final vows on Oct. 19, 1996. Her ministries within the community include the Development Office at Ursuline Academy, Cincinnati, teacher of Spanish at St. Henry District High School in Erlanger, KY, and elementary school Spanish classes at St. James the Greater and St. Vivian in Cincinnati. Sister Debbie is presently the archivist for her community.