How to survive an interfaith marriage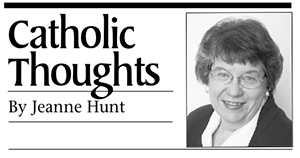 In days gone by, Catholics married Catholics. That was the bottom line. In fact, most Catholics did not even attend weddings of other faiths. We were encouraged to marry Catholics, and woe to anyone if he or she fell in love with a Protestant, much less a Hindu, Muslim, or Jew. I remember a conversation with my 16-year-old daughter: "Mom, is it okay if I date boys of other races?" "Sure, as long as they are Catholic," I responded. Many people possessed a deep fear that the union of two people from different faith traditions would result in the Catholic partner losing his or her faith. Catholic parents as well as spouses need not worry; there is a grace sufficient and even blessing beyond our hopes.  
In our time, the perspective on marriages of mixed-faith traditions has changed drastically. Catholics now marry people of other faiths and people of no particular denominational faith. As our culture has become more diverse, and we have educated and raised our children and grandchildren to accept everyone, so, too, has the mixture of married pairs.
While I still contend that a marriage between two Catholics is the most desirable option, many other combinations are healthy and filled with grace. Faith is so basic to a healthy marriage that when the families that are joining together are in conflict, this tension can cause all kinds of havoc and presents unique and sometimes irresolvable challenges for couples and their families. How can those involved in a mixed-faith marriage and those who love them grow in faith and love after the vows?
We do so by communicating and not presuming. We need to talk and listen. We begin by asking: How does my partner feel about the celebration of holidays and holy days? What does my faith tradition and my partner's teach about Sunday (or weekend) worship and communion?
A next step is learning as much as possible about the faith background of one's partner. This leads to a greater understanding of the partner's feelings, and our interest shows that we care. Partners and their families must share their beliefs — Catholic and otherwise — and be willing to listen with an open mind. (For some of us, this might require boning up on the basic beliefs of our faith. "I don't know" doesn't strengthen anyone's faith.) When Teresa welcomed her Jewish son-in-law into her Catholic family, she learned everything she could about the Jewish Seder. In fact, she became such an expert that Teresa started hosting a Seder at her parish. Her daughter and son-in law were reassured that her deep respect and interest was a sign of her love for both of them.
It is best to plan ahead. We need to talk early on concerning important religious decisions and the lifestyle of the Catholic faith. Couples should talk about such issues as the baptism of children, Sunday Mass attendance, use of contraception, tithing, volunteering, etc. We must let our partner and new family member know what is nonnegotiable and where we can be flexible. For instance, while Sunday Mass is never something we take a pass on, we can always attend another church in addition, perhaps 4:30 Saturday Mass at Sacred Heart Catholic Church and 9:00 services at Trinity Lutheran on Sunday. Interfaith marriages require a lot of give-and-take to make them work. This means that we commit to participate in each other's spiritual lives and keep our extended families in the loop.
We need to remember that even the best made plans will change throughout the life of this interfaith marriage. The birth of children, new careers, and even the decision to become Catholic mean that a new discussion needs to begin as the marriage is refashioned. What worked when we were newlyweds may be far from a solution in our forties. Through all of this, the extended family needs to be supportive and encouraging. In my world, the greatest gift we can give our married children is a caring heart and a place to talk through their worries.
The best advice anyone can offer the interfaith couple and their family is "enjoy your relationship." Rather than emphasize differences, we need to look at the gifts each partner brings to the union and enjoy those gifts. I believe that each one of us possesses gifts to give the other. When we see our partner through God's eyes and God's heart, things begin to look different.   Whether we find ourselves joining our Baptist daughter-in-law for her Tuesday night Praise and Prayer Circle, sitting in on a Pentecostal Hymn Sing, reading the Koran for the first time or even tasting matzo ball soup, we are meant to bring God's children closer to Him through the gift of love.
++++++++
Hunt is a nationally recognized catechetical leader and author.