Hunt Column: It all boils down to love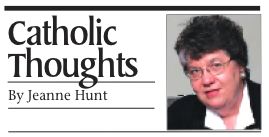 Sister Philomena told us, "You love Jesus as much as you love the person you love the least." "Holy Cow!" I thought after hearing that pronouncement.
The first person that came to mind was Aunt Pearl, my 90 year old aunt. She smelled like steamed cabbage, belched all the time and kept accusing me of stealing her salad forks.
"You mean that is how much I love Jesus? Sister must have this wrong. Do I have to love those people I don't like?" I wanted to play by the rules but this seemed over the top. It would be a lot easy just to love my selected lovables.
Jesus says it this way "Love your enemies…" As we start writing out those Valentine's Day cards, it might do us well to challenge ourselves to get real about loving others. Being disciples takes us beyond our comfort zone
We are asked to love those who have hurt us, who repulse us, and even those whom we call our enemy. The Gospel is very simple. One word summarizes Jesus message: it all boils down to "Love."
Love is a difficult to wrap our minds around. Some people cannot even make themselves say," I love you." A friend of mine tells me that she has tried for years to get her brother to say the word love to her.  She will say, " I love you, Steve," and he answers, "Harrumph," under his breath. It scares some people to make the big commitment to profess love.  On the other hand some people seem to love everybody.
All of their communications end with "Love Ya." They love the dog, the cashier, George Clooney, bluegrass music, their child and even Jesus in the same big bundle.
These polar opposites tell us the same thing: We have a fear of loving tenderly and specifically because love requires surrender, mercy and vulnerability.
And yet, this is what the Gospel requires. We are invited to love without reserve and never count the cost. It may even require a willingness to lay down our life for another. It often requires forgiveness even when we want to hold on to our hurt.
Valentines' Day is a moment when we tell others that they are loved. However, it has become only a time to buy pretty cards and candy that have little to do with the challenge to demonstrate love. That challenge invites us to start really becoming lovers, like our Divine Lover. We need to get specific. Who is your "Aunt Pearl?" Who is that one person that you have sworn you will never forgive?  Real love doesn't seem to be easy or even convenient. What we must do as disciples is take that bold leap, to move beyond the small circle of people we love every day.   We are called to love wider and deeper, just the way God does.
Love is worth whatever pain, suffering and vulnerability it requires. When we have the courage to surrender to loves demands we meet God. "Everyone who loves is begotten by God and knows God … for God is love" (1 John 4: 7,8). Love is what God is and wants in the world.
We discover that when we abide in that love we are complete and authentically happy even when the cost is painful. A single dad recently wrote about his experience of loving his five-year-old daughter after his painful divorce from an unfaithful wife. It was 11:30 p.m. on a Friday night, he posts on Facebook, "I look down at my daughter's sleeping face in the dim light of the nightlight and see the reason for everything, all of the joy and the pain. All the moments past and present lead me here to this quiet moment. There is no noise here in this moment. No evil. No doubt, no fear. Just love." He will find, as we will find, that love is a balm that heals.
Jeanne Hunt is a nationally recognized author and catechetical leader.
This Catholic Thoughts column by Jeanne Hunt originally appeared in the February 2015 print edition of The Catholic Telegraph.