I Have Called You by Name: It's important to God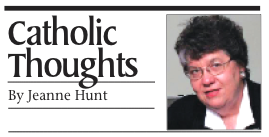 Have you ever had a nickname? I have a son who is known by most of his friends as Donut. There are folks who couldn't tell you his given name.
Nicknames are expressions of endearment. Princess, Sparky, and Red tell us about unique qualities and relationships. In a way, when a person is given a nickname, it's an honor. It says that there is more to us than meets the eye. We have something very unique that sets us apart. In a world of Social Security numbers and PINs, our nicknames give us identity and single us out as gifted and loved.
So, what do people call you? Those names are rich with promise and tell a story about your relationship. My first grandchild was given the task of calling me by name. We waited months until he could talk. I dreamed that he might call me Nana, Grand-Mère, Nonie, Oma…. On that great day when he finally proclaimed my grandma name, it was Mammy.
It is no different with God. Our name is important to Him. The day your name was proclaimed at your baptism, all of heaven rejoiced. You almost hear the angels shout as the water is poured: "Here is Elizabeth Marie. She will be a doozie of a disciple!" Then, your name will be said again at your confirmation, your wedding or ordination, and finally as your body returns to church for your funeral. God revels in your name as a sacred thing.
Yet, I believe that God also enjoys a good nickname. You know of that Scripture passage that says God has written our names on the palm of His hand. Could it be that God loves to be with us and softly whispers that nickname in our ear: Joyful One, My Fixer, Steadfast Servant, Little One? It is that name that he writes on His hand. After a lifetime of discovering God's nickname for each of us through prayer and presence with him, He greets us at the entrance to heaven and opens His arms to welcome us. There it is! On God's hand is written our nickname. When we recognize it, He embraces us with all the love those words mean to both of us and our heaven begins as God says, "I have called you by name: you are mine…you are precious in my eyes" (Isaiah 43:1, 4).
Many of us go around trying to rack up titles. There is so much prestige in being called Doctor, CEO, Cardinal…. Our own auxiliary bishop, The Most Reverend Joseph Robert Binzer, tells a story about his new name. He was so honored to become our bishop so he asked his mother if she was planning to call him the Most Reverend Joseph Robert Binzer. Her response was short and full of love, "No! I'm calling you Joey like always." It was Joey she loved and respected. His title was simply that, a title. Our Heavenly Father shares this view. While titles of honor and distinction are good and deserve respect, it is far more important to be a servant who answers with humility to the little names we bear. We are invited into intimate relationship with the Divine Creator whose own Son thought of Him as Abba. That same Heavenly Father loves to be considered our very personal companion. Mary of Magdala, upon seeing the risen Jesus for the first time, recognized him only when he looked at her with love and said, "Mary!" Her response was "Rabbouni" [Teacher]. It was the moment of being called by name that opened her eyes.
I invite you to spend a few moments reflecting on the names you have been called in your life: Princess, Mama, Uncle Donut, Padre, Shorty…each one reveals a little of your character, your distinctive qualities, even your weaknesses. Yet each name echoes the depth of love someone feels for you. Now, let us imagine the palm of God's hand. Look hard for His endearing words written there for you: "This is my Joyful One with whom I am well pleased."
Hunt is a nationally recognized author and
catechetical leader.
This
Catholic Thoughts
column by Jeanne Hunt originally appeared in the October 2014 print edition of
The Catholic Telegraph.