Playoff glance and week 8 standings for archdiocese Catholic HS football teams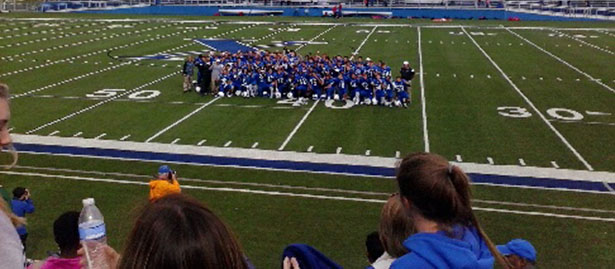 Staff Report
With only two weeks to play, including tonights action, the Ohio high school football playoff scene is beginning to take shape. Before getting to the standings, here's a look at who has a strong chance to be in the postseason.
All regional placement information was gleaned from JoeEitel.com, an unofficial but popular high school football website.
St. Xavier has clinched a playoff spot and Moeller can do the same by winning out. Elder is on the bubble. Currently 15th in Division 1 Region 2, the Panthers need to win out and watch how things shake out in the rest of the region. The lone GCL South team in Division II, La Salle, has locked up its spot in the playoffs.
Carroll, the only archdiocese Catholic school in Division III is not mathematically eliminated, but sitting at No. 21 in a region where the top eight qualify, the odds are against the Patriots.
In Division 4 Region 14, Alter and McNicholas control their own destiny. Alter is No. 1 and McNicholas is No. 4 in the region. Fenwick, currently No. 11 in the region, still has an outside chance if the Falcons can win out over CJ and Carroll.
Division 5 Region 18 sees Badin (No. 5) and Chaminade Julienne (No.  8) currently in position to make the playoffs, and the Rams control their own destiny. Roger Bacon sits at No. 12 but remain mathematically in contention. Purcell Marian is even further down the list, but still technically alive.
In Division 6 Region 22, Summit Country Day is on the outside looking in at No. 12. The Knights are still alive but their final two opponents have weak records, hurting their chances.
Lehman Catholic sits No. 2 in Division 7 Region 26. The Cavaliers control their own destiny and both of their final opponents have losing records. Catholic Central is mathematically eliminated from contention.
Here are the standings through week eight with week nine opponents listed.
Team                                  Week 8 Record                Week 9 opponent
GCL Co-Ed Standings
North
Alter                                        8-0 (5-0)                   at Carroll (2-6)
Chaminade Julienne                 5-3 (3-2)                    at Fenwick (4-4)
Fenwick                                  4-4 (3-2)                   Chaminade Julienne (5-3)
Carroll                                     2-6 (0-5)                   Alter (8-0)
Central
McNicholas                              7-1 (4-1)                  Roger Bacon (3-5)
Badin                                      6-2 (3-2)                  Purcell Marian (3-5)
Roger Bacon                           3-5 (1-4)                   at McNicholas (7-1)
Purcell Marian                         3-5 (1-4)                   at Badin (6-2)
GCL South
Moeller                                    6-2 (2-1)                   Lakewood St. Edward (6-2)
St. Xavier                              6-2 (2-1)                   Cleveland St. Ignatius (6-2)
LaSalle                                   7-1 (1-1)                   at Winton Woods (4-3)
Elder                                      5-3 (0-2)                   at Highlands (KY) (7-1)
Other Catholic Schools
Lehman Catholic                      6-2 (4-0 NCC)                  at Waynesfield Goshen (3-5)
Summit  Country Day               5-3 (2-3 MVC)                  Dayton Christian (2-6)
Catholic Central                       0-8 (0-5 OHC)                 Cedarville (3-5)
Harkening back to older times where The Catholic Telegraph published high school football information in the print edition, for the remainder of the season we'll be posting the collected standings and weekly opponents of all of our Catholic high school football teams here each Friday.
Posted Oct. 24, 2014