Inspired by Dedication, Faith and Kinship, St. X Aquabombers Take First at Nationals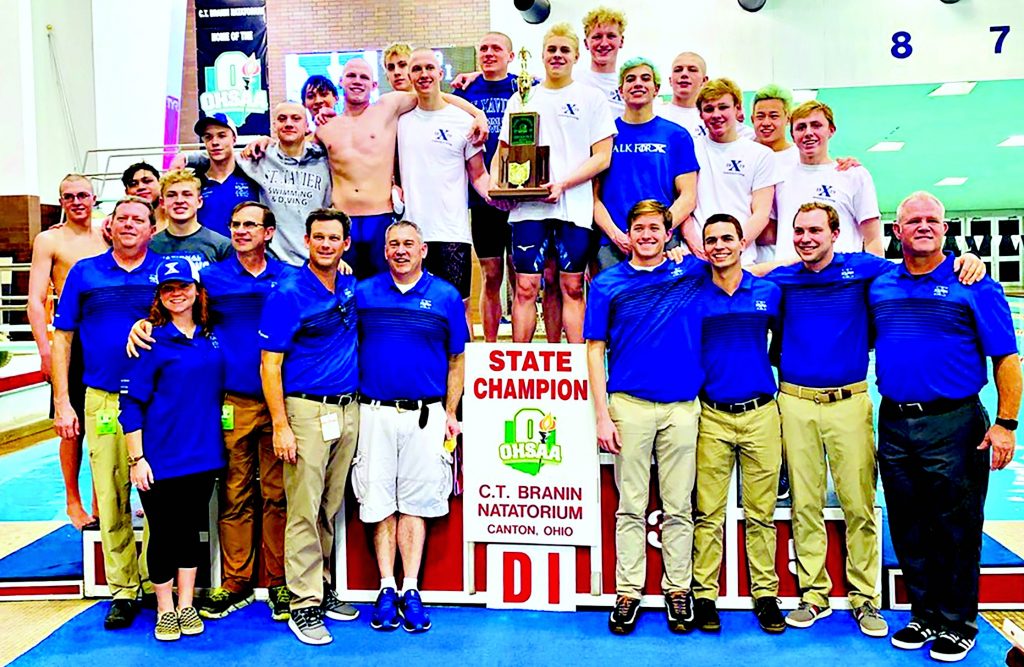 By Erin Schurenberg
St. Xavier High School Aquabombers took home first place at the National Interscholastic Swimming Coaches Association (NISCA) for the fifth consecutive year. This top ranking is the 11th overall for the St. Xavier swimming and diving team. Additionally, in February, the team captured a record 40th Ohio State Championship.
The Aquabombers' annual team roster numbers over 85 students. Every team member is nicknamed by Asst. Coach Tom Keefe, who enthusiastically remembers each nickname and uses them to bolster the swimmers' spirits. The recent winning team was captained by three Class of 2019 seniors; Aki ("35") Li, John-Paul ("JP") Khouzam and Christian ("Heathen") Wall.
Li began competitively swimming for the Mason Manta Rays at age 8. Despite his experience, the legacy of excellence of the Xavier swim team intimidated Li and other hopefuls as freshmen. However, once a team member, he quickly became acquainted with a lesser-known team legacy: kinship.
Said Li, "Most people think of swimming as an individual sport, but with the St. X swim program, a sense of belonging exists regardless of pool achievements. Everyone contributes whether in points or enthusiasm."
Li finds that feeling of fraternity unique to Xavier. He believes their closeness results from excellent coaching for the sport as well their coaches' emphasis for scholastic study and service work.
As Li prepares to attend college in the fall, he has stopped swimming competitively. However, he reaped many benefits from his swim team that will serve him well in the future.
"I learned dedication and time management. Spending 20 to 25 hours in the pool weekly, we all needed to use our time wisely. Our coaches believed in us 100 percent and encouraged us to achieve our best at all levels. The swimming and diving team has the highest GPA of any sports team at Xavier," said Li.
Several of the coaches, including head coach Tim Beerman, also teach at St. Xavier. Coach Beerman is an alumnus of Moeller High School, where his father, Dick Beerman, served as a longtime co-athletic director. Aside from being a Moeller swim team member himself, Coach Beerman's swim coaching spans over 20 years, including serving as head swim coach at Ursuline Academy.
Recently retired Father Richard Bollman was the longtime pastor at Xavier University's Bellarmine Chapel. Father Bollman simply knows Coach Beerman as a 10-year member of the choral group for the 7 p.m. Sunday Bellarmine service.
"Tim is a very reassuring man. He operates out of a deep sense of who he is. He brings joy and centeredness to gatherings. He is a deeply unassuming man, but is obviously much loved and respected by his peers," said Father Bollman.
"Coaching a team with such a long-held reputation for excellence is a privilege. I am humbly honored to carry the legacy into the present," said Coach Beerman.
Beerman has an open office policy that gives team members a quiet place to study. He relishes seeing each athlete achieve personal improvement in and out of the water. The team has weekly chapel visits where the coaches, swimmers and divers make a concerted effort to slow their pace. These times of reflection lead the athletes to realize they are part of something bigger than themselves.
"I look at my role as a vocation. Although the competitive nature of the sport can be tiring, it is also invigorating. Plus, we genuinely have a lot of fun!" said Coach Beerman.
The brotherhood among the Aquabombers is literal in some cases, as with John Paul ("JP") and Jean-Pierre ("Dash") Khouzam. The brothers were two of the nine Aquabombers to achieve All-American status this year. The siblings live in Dayton, but their parents chose Xavier because they value the Jesuit education model. This decision meant a one-hour commute to school. If mornings included swim practice, departure time was extremely early.
Their choice served them well. John Paul said, "Each year, the team started with a clean slate regardless of previous success or failure. The coaches were the primary ones pushing us to be successful while looking out for our best interests. Now, I carry within what they taught me."