Is religious liberty in danger? Marriage advocate Ryan Anderson says threats still loom for Americans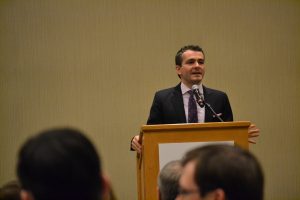 By Gail Finke
Saying Donald Trump's presidency has "hit the pause button" on threats to religious freedom, author Ryan Anderson told a crowd of Ruah Woods supporters that Catholic teaching is at odds with the philosophy many politicians want to enshrine in American law.
"The Trump administration has hit pause, not stop" he said, "and the next administration may hit fast forward as they try to regain lost ground."
Anderson, a young Catholic scholar and marriage advocate, outlined challenges to charities and businesses during Barack Obama's presidency, noting that religious adoption agencies in three states closed because of requirements that they place children with same-sex couples, and business owners in a number of states face financial ruin after they were sued for declining to provide services for same-sex "weddings."
Following the Supreme Court's Obergefell v. Hodges decision (named for Cincinnati resident Jim Obergefell), Anderson said, politicians stepped up efforts to deny non-profit tax status to institutions that refused to participate in so-called "gay weddings" or teach that sexual acts between people of the same sex are immoral. Likewise, he said, accreditation for schools and licensing for counseling and other professions were under scrutiny by powerful political groups seeking
While Trump campaigned on promises to protect religious liberty, Anderson said, cabinet members and his own children disagree. "There's a generational and cultural divide in the White House," he said. "It's important that Trump hears from the people who will be protected by these measures that he must do what he promised."
The religious teachings most in question boil down to three beliefs, Anderson said: that people are made in the image and likeness of God, that they are created male and female, and that male and female are made for each other. Social issues from abortion to same-sex "marriage" hinge on whether these teachings are accepted or rejected.
Anderson's latest book, written with Sherif Girgis and John Corvino, will be published in June. Debating Religious Liberty and Discrimination deals with the above issues and what the authors predict will be the next issue triggering religious liberty lawsuits: transgenderism.
Bridgetown-based Ruah Woods, an institute dedicated to Pope St. John Paul II's Theology of the Body, deals with all these issues in its classes, workshops, psychological services, and materials. The Archdiocese of Cincinnati has adopted its TOB elementary school materials and curricula in all schools.
"Religious liberty isn't controversial – unless they touch on sexual matters," Anderson said, noting that few people oppose the Amish having reflective triangles on their buggies rather than lights because of their faith. But many now consider the age-old understanding of marriage and family to be bigotry.
"John Paul II would say this is because of a crisis of anthropology," he said. "The thought is that eclipsing God will elevate man, but what actually happens is the diminishment of man." Anderson commended Ruah Woods for "responding to faulty humanisms and teaching the truth about the human person.
"Think tankers" like himself are necessary, Anderson said, but the country "also needs people defending and living the truth, and explaining why it's not like racism,but that our beliefs reflect what is true, beautiful, and good.
"Legal arguments matter," he said, "but cultural realities live more."