Jeanne Hunt: Holy night – or hectic night?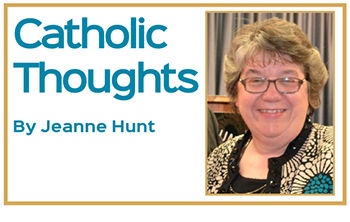 Tis the season to be merry. Or is it? Too often, we dread the holidays because of all the hassle involved in making merry. Not the least of which is getting gifts for family and friends. Thanksgiving is so simple: great food, great company and not a worry in the world about the perfect gift, decorated trees, family events, etc. It comes down to making a choice between a hectic or holy night. As Advent begins, let's make a mindful choice to honor the church's version of the holidays.
Advent are days of preparation. What God considers getting prepared and what the culture thinks prepared is all about are two very different things. God wants quieted souls ready to receive the Christ once again. Our world wants perfectly decorated homes, gourmet cuisine and beautiful holiday clothes. Hmmmm… big difference. Again, it is time to make a choice. If we go with God's plan, we are switching from hectic to holy.
These Advent days are riveted with surprises if we are looking. The problem is that we are so distracted with all the chaos of December's Christmas noise that we barely recognize a good surprise when it comes. Each day, God will reveal His presence within us in the people and places around us. "You must be prepared, for at an hour you do not expect, the Son of Man will come" (Luke 12:40).
"Be prepared," Jesus tells us, or we will miss the surprise way in which He is popping into our vision, speaking through the voice of another, embracing us in the hug of a child. How can we prepare for this?
A sure-fire way to clear the air of holiday smog is to start the day with a few moments of quiet meditation. When we sit in a still place and become aware of the God within us, the worries and distractions of the day seem to become less of a hassle. If we need to, we can repeat the words of St Teresa of Avila: "Let nothing disturb you. All things are passing, only God remains."
When we pause and realize that God is walking with us through our day, we begin to notice strange things: the frosty air when we walk out the door in the morning that greets us with the Advent wind of the Spirit; the smile of the maintenance guy at church as he shovels the church steps; the Christmas carol on the radio sounds like a heartfelt prayer. It is as if we are in a different dimension and we can see the people around us and ourselves more clearly.
Next, let us give simple, heartfelt gifts that do not cost a fortune. Luke puts it this way " Take care to guard against all greed, for though one may be rich, one's life does not consist of possessions" (Luke 12:15). Gift giving is an expression of love for the other as we celebrate the incarnation. We want to honor the goodness and God presence in the receiver. A gift that affirms their unique talents or what they delight in is the good gift. Too many of us desire "more, more, more" in order to be happy at the holidays. Nothing is farther from the truth. Expensive gifts, money, gift cards cannot bring joy.
Luke tells us that greed is toxic to the soul. I love to give a simple gift that tells the receiver that I know them and love their spirit: a new paint brush for my artist friend; birthday cards and stamps for my thoughtful aunt who is unable to get out; some feisty, hot sauce for my chili loving brother. This method takes thoughtfulness and is not meant to impress. Yet, it speaks deeply of our care and love.
If you keep the gift giving, decorating, social times simple and spend more time sitting with God each day of Advent, I promise you a remarkable Christmas. And, you can bet that our remarkable God will be sparkling each day of your Advent with one of His delightful surprises.