Locals attend the Beatification of Bl. Solanus Casey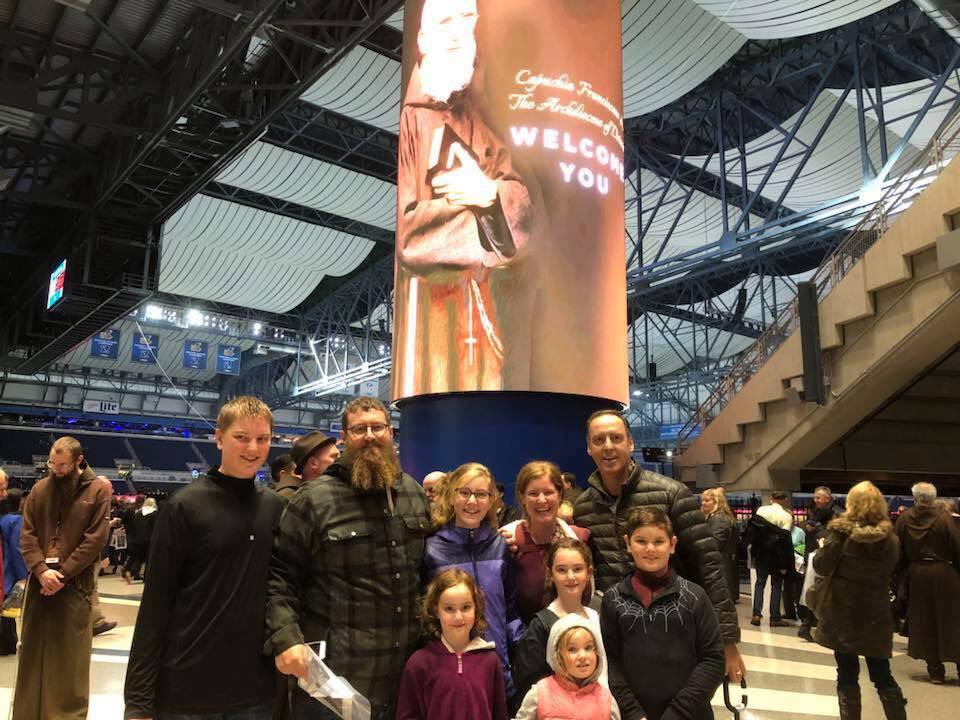 Among the area people who traveled to Detroit last month for the beatification of Franciscan friar Solanus Casey were a 10-year-old boy, three seminarians, a priest, and a Dayton family whose daughter (now a religious sister) once lived in an Indiana Catholic center that was once home to the Capuchin priest.
Young Solanus Leyendecker, the son of John Leyendecker (who runs School of Faith in the archdiocese) and his wife Lisa, traveled to the beatification at Ford Field with his family and was interviewed by EWTN news for an article about people named "Solanus." Here is an excerpt:
"…. The entire Leyendecker crew – including seven children and one on the way – made the five to six-hour van trip all the way from Cincinatti [sic], Ohio to be present for the beatification.
"John said he first learned about Blessed Solanus after picking up a book about his life during his years as a youth minister. At the time, his wife Lisa was pregnant with their second child, and he was so inspired by Fr. Solanus' life that he told his wife if their child was a boy, they'd name him Solanus.
"'And she said you're nuts, we are not, because that name is a little far-fetched,' John recalled. 'And I said, you gotta read this book, you'll love him.'
"Halfway through the book, Lisa was also convinced that they would name their child Solanus, if it were a boy. At the same time, she discovered her family had a personal connection to the holy friar: her mother told her the story of her great-grandfather who was cured of cancer after visiting Fr. Solanus when he was stationed in Indiana….
'It's awesome,' John said. 'We played Catholic roulette on a saint's name, he wasn't even a saint yet, but we said we're going to name him after this guy because he's going to be raised to the altar one day. And here we are ten years later and in fact he is." (Click here for the complete article)
Father Eric Bowman, pastor of Transfiguration Parish in West Milton, drove to Detroit for the beatification. So did three seminarians studying at Mount St. Mary's Seminary of the West in Mt. Washington: Robert Healy, a seminarian for Tulsa; Brother Gabriel Heidbreder, a seminarian for the Fathers of Mercy; and Kevin LeMelle, a seminarian for the Archdiocese of Cincinnati.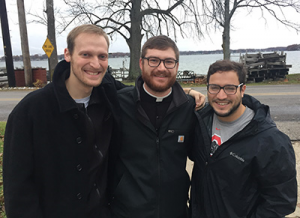 The Athenaeum of Ohio published remarks on the beatification by Brother Gabriel, who grew up near Bl. Solanus.
"Certainly, it is an awesome thing to go to the beatification of any holy man or woman, but this case was especially important to me since I grew up just over an hour away from where this saintly friar lived, worked, and prayed," he wrote. "It was so impressive to be at a nearly packed Ford Field to celebrate the life of a lowly friar who struggled through school, held the door open to those in need, and never turned a deaf ear to those who asked for advice, consolation, or intercession. He simply gave of himself totally to Christ and to his fellow man.
"As a seminarian and consecrated religious it was an impressive sight to witness the impact of one man, who lived out a humble life of simple fidelity to Christ through obedience to the duties asked of him in his state of life, as well as the power of God's Love when It is allowed to move through those who willingly cooperate with It.
"It rained and poured our entire trip up to the beatification and was snowing when we walked out of the stadium. Yet, I couldn't help but smile at God's magnificent sense of humor in His perhaps subtle reminder of one of my favorite scriptural passages: 'For as the rain and the snow come down from heaven, and do not return there without watering the earth, and making it bear and sprout… So will My word be which goes forth from My mouth;
It will not return to Me empty,
Without accomplishing what I desire,
And without succeeding in the matter for which I sent it'  (Isaiah 55:10-11)"
Ascension Parish (Kettering) members Tim and Lynn Bete took their daughter Grace to the beatification, and met up at Ford Field with another daughter, Dominican Sister Maria Benedicta, of the Dominican Sisters of Mary, Mother the Eucharist in Michigan.
For the Bete family, it was another case of a "Solanus" traveling to the beatification of his namesake: Tim and Lynn are both secular Carmelites, and Tim's name in religion is Lawrence Solanus of the Child Jesus (after Brother Lawrence, Blessed Solanus Casey and St. Therese). Their Dominican daughter too has a connection to the Franciscan friar.
"Sister Maria Benedicta lived for a year at the Saint Felix Catholic Center in Huntington, Indiana, where Father Solanus Casey also lived for many years," said Tim Bete. "His cell has been preserved there."
Blessed Solanus Casey, pray for us!