Kelly's latest book for those open to encounter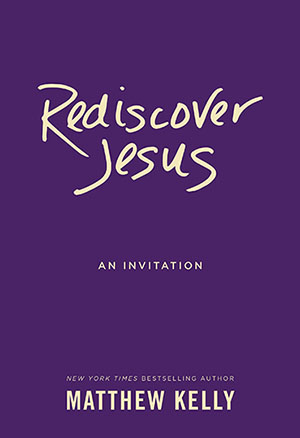 By John Stegeman The Catholic Telegraph
Matthew Kelly is a household name with his famous book Rediscover Catholicism, which is one of the top selling religious books of all time. He's back again with a similarly titled book, Rediscover Jesus: An Invitation.
The 40-chapter book, published by Kelly's Beacon Publishing in July, sells on his website for $18.95 ($25 elsewhere) and could be beneficial to Catholics who find themselves in a complacent place spiritually, but are open to rediscovering the person of Jesus, and transforming their life.
Meant to be read daily, the chapters are short and easy to digest. Kelly opens strong with a powerful narrative story and an honest invitation to stay open to the possibility of rediscovering Jesus.
"Some books find us at just the right time in our lives, and those books change our lives forever. I hope this is that kind of book for you," he writes.
He's right that this book needs to be read in the right state of mind. Not every book is meant for every audience, and Rediscover Jesus is perfect for those who find themselves in the pew on Sunday, but aren't feeling the fire of faith. Helpful exercises at the end of each chapter give a "point to ponder," "Verse to live," "Question to consider" and a prayer. These will help the open-hearted reader to, as Kelly invites, rediscover who Jesus was and what He asks of us.
One can nearly hear Kelly's Australian accent and easy-going demeanor in the writing style, which does a good job of preaching the truth without sounding "preachy." Though it often references the Bible and important points of theology, the book's reading level should be accessible for anyone from junior high students to educated adults.
No book is perfect, however.
Readers of Kelly's other books, or those who have heard him speak, will note a repeating of phrases and ideas they've heard before, but hearing a good message repeatedly can be a positive thing. His chapter on "tweaking" our behavior, for example, was teased in a 2013 speech available on Youtube, but the message remains important.
"We pray for tweaking — and then wonder why God doesn't answer our prayers," Kelly writes. "The reason is simple: God is not in the business of tweaking. He's in the business of transformation."
Repetitive or not, Kelly strives to portray Jesus as more than just a person to visit on Sundays. He shows in many chapters how an experience with Christ changed those in the Bible, and states more than once that if all 2 billion Christians on Earth lived as Christians, we would change the world in an instant. Rediscover Jesus isn't a fluff book designed to make one feel better about their faith, but rather is an invitation — a challenge really — to rediscover the Lord and be the person He wants us to be.
For the Catholic seeker looking to deepen their relationship with Christ, the Sunday-only-Catholic-with-an-open-heart or fans of Kelly's previous work, (Rediscover Jesus: An Invitation) is a worthwhile read.
The book is available for sale or order at most Catholic bookstores and can also be found at DynamicCatholic.com.
This book review originally appeared in the October 2015 print edition of The Catholic Telegraph.