La Salle asks prayers for student, community after suicide attempt at high school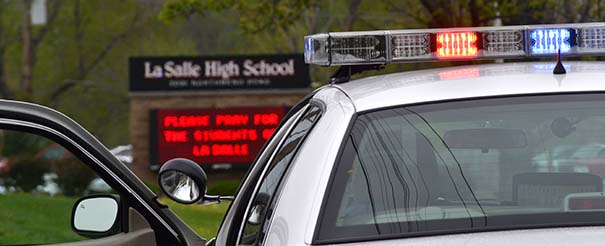 Staff Report
A press release from La Salle High School reported that the student who attempted suicide during first bell Monday morning was still alive and was in critical condition as of 3 p.m. Monday.
The student shot himself at 9:07 a.m. during an honors level leadership class. The school immediately went into lockdown after 911 was called.
According to the release, the still unnamed student is an honors student working on his Eagle Scout designation with a history of volunteerism and community service.
All activities for today are cancelled and school will open tomorrow with a special Mass.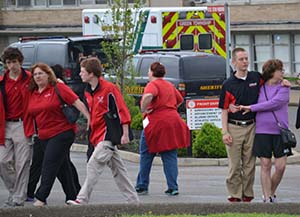 The full release can be read below.
Press Release
La Salle High School 
A La Salle High School junior is in critical condition, suffering from a self-inflicted gunshot wound. The incident occurred at 9:07 a.m. during an honors-level leadership class at the school. Following the school safety plan, 911 was immediately called, the school was immediately locked down, command and control were established, and all students' safety was verified.

The Hamilton County Sheriff's Patrol and Green Township Police responded quickly. 

No one else was hurt or threatened. According to investigators from the Hamilton County Sheriff's and Greene Township, this appears at this time to be an isolated incident. 

The LaSalle community asks for prayers for the student, who is in a hospital fighting for his life, and for the LaSalle community. 

"LaSalle High School is a strong, faith-filled community," Dr. Jim Rigg, superintendent of Catholic Schools for the Archdiocese of Cincinnati, said at the school. "I've always been impressed by the community's commitment to each other. I'm confident that the faculty, staff, and student body will move forward from this issue as they have in the past." 

Students were dismissed this morning in an orderly, controlled fashion as their parents picked them up. Counselors from the school, as well as from Hamilton County and from McAuley High School, were on the scene to counsel students and faculty before the dismissal. All activities at La Salle have been cancelled for the rest of today. The school will re-open tomorrow with a special Mass. Counselors will again be on hand. Green Township police officers, who normally walk through the building once a day, will also be present. 

A prayer service open to the public is being planned for tomorrow night. 

The affected student is an honors student who is working on his Eagle Scout designation. He volunteered for several church and community organizations, with more than 80 hours of service. 

La Salle is located at 3091 North Bend Road in Green Township and has served students from Greater Cincinnati since 1960. Its website is www.lasallehs.net. 

La Salle High School is an all-male college preparatory Catholic institution guided by Jesus Christ and rooted in the teachings of St. John Baptist de La Salle. In partnership with parents, La Salle educates young men of all backgrounds, encouraging each student to reach his maximum potential: mind, body, and spirit. La Salle strives to develop every student into a servant leader, equipped with the experience and confidence to lead ethically in a 21st century environment.