La Salle football-playing brothers spent summer serving others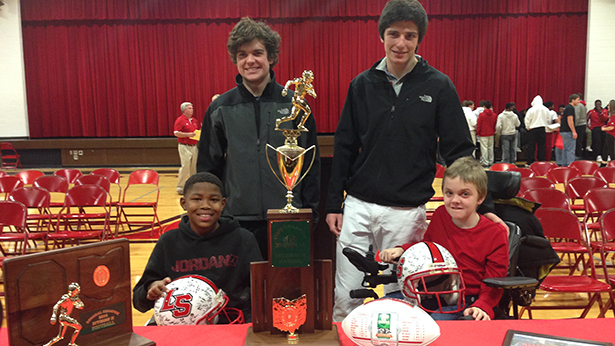 Press Release
La Salle High School 
La Salle High School's football team has been in the spotlight recently for winning the school's first state championship in the sport, but wins and losses don't tell the full story of a Lancer program dedicated to forming young men who are "called to serve."
Summers for high school football players are typically the same. Many work a part-time job, work out or hang out with friends. For two La Salle High School players — brothers John and Jake Junker — last summer was unique.
The two were counselors at Camp Campbell Gard, a YMCA overnight camp for children with developmental disabilities.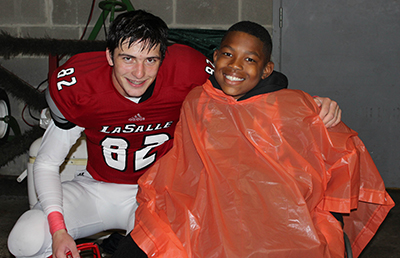 They each volunteered more than 150 hours at the summer camp in Hamilton. The Junkers worked one-on-one with teens with muscular dystrophy, helping them enjoy activities, including sports.
"We did normal things with them, with a modification here and there," said Jake, a junior tight end. "We played a baseball game with them but would help them when they needed it.  For example, sometimes they couldn't hold the bat, so you'd have a counselor hold the bat with them and swing."
His brother said the teens at the camp had a range of disabilities, some more severe than others.
"What we usually did … is help them get dressed, take showers and eat, if needed," said John, a senior who plays defensive end. John Junker added a touchdown in La Salle's state title win, returning a blocked punt for a score.
According to the Muscular Dystrophy Association, volunteers work one-on-one with campers, providing the care, close supervision and attention that children with neuromuscular diseases require. The camp offers a variety of adaptive activities, such as horseback riding, zip lining, rock climbing, soccer, swimming, arts and crafts, and a camp dance.
"The lifelong friendships, increased self-esteem and confidence, and the chance to spend one week out of the year in a place where physical disabilities are the norm rather than the exception make camp unforgettable," MDA said in a press release.
For the brothers, it was like a school immersion trip.
"We were thinking about going on a service immersion trip through school, but we just have not had the chance to do it. So this was our first big week out away from family," said Jake.
Their mother Sharie said it changed her sons.
"They came back changed from the summer; that was such a blessing," she said.
"La Salle is raising boys … to have an understanding to serve and to serve others. This is the essence of La Salle. They foster that in every way. If the kids learn that early, they have a shot at becoming good men."
And the Junker brothers, who attend St. James Parish in White Oak and live in Green Township, learned early to help others. "We have two younger brothers (twins who are freshmen) who have special needs, and we really thought we'd be a really good fit for it," John said.
And their help didn't end the summer. The brothers stayed in contact with the teens they helped.
"When Michael Overberg (the teen whom Jake counseled) had a problem over the summer … his family contacted MDA, and MDA contacted me and wanted to see if I could talk to him about it," Jake said.
He did. But it didn't stop there. The two teens from the camp were invited to a La Salle football game.
"It was mom's idea," John said. "She talked with (coach) Nate Moore, and we talked to him and he thought it was a great idea."
Jake added, "She thought of the idea, and then we said it was a good idea. You thought of it first, John. You said Jacoby (the teen whom John counseled) really loved football."
"I just wanted to get them to a game," John said.
It was Coach Moore who had the idea to make them captains for the football game against St. Xavier, a 24-21 La Salle victory.
The game was played in rain, and the two teens left at halftime, but the Junker brothers had an opportunity to spend some time with their new friends.
"We saw them for about 10 minutes pregame," Jake said. "They were taking cover from the rain. I hung out with them for about 5 or 10 minutes. Michael was really happy, smiled, and gave me a hug right away."
"Jacoby (Gilliam) was just like, woo," John said. "I was in my full pads and he said, 'I didn't know you're so big.'"
And the support didn't stop at the game.
"(Moore and the team) then took the next step and had all the boys sign a helmet for the two in wheelchairs for the night," Sharie Junker said.
The Junkers are active at La Salle. Along with football, Jake is involved in mock trial, the National Honor Society, the track and field team, the Student Ambassador program, and the Lasallian Scholars Institute. John plays baseball and ran track, is part of mock trial, and is also a Student Ambassador.
And next summer, you probably will see the two back at Camp Campbell Gard. Both said they are definitely signing up to be counselors again.
"Our school offers service immersion trips, but honestly I would like to just go to this every year instead because this is fantastic," Jake said.
John added, "I think it should be a service immersion trip; you could get a lot of people involved."
Posted Dec. 10, 2014