Last weekend's torrential rains affects local school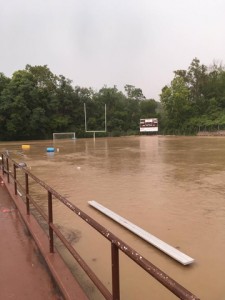 On Aug. 29, heavy rains swept through the Greater Cincinnati area, impacting many homes, apartment complexes, businesses, and schools. Bron Bacevich Memorial Stadium, the home of the Roger Bacon Spartans, was rendered unusable and closed until further notice.
Roger Bacon has embarked on a fundraising drive, RB Rising, for clean up and a new turf field. The school has set a goal – to have the last scheduled home football game, Senior Night, on Oct. 21, played at Bron Bacevich Stadium. Roger Bacon has also rescheduled their annual Homecoming festivities and parade for the same evening.
For more information, visit http://www.rogerbacon.org/news/rbrising.
Story Posted September 2, 2016