Lauren Hill, MSJ basketball player and DIPG advocate, dies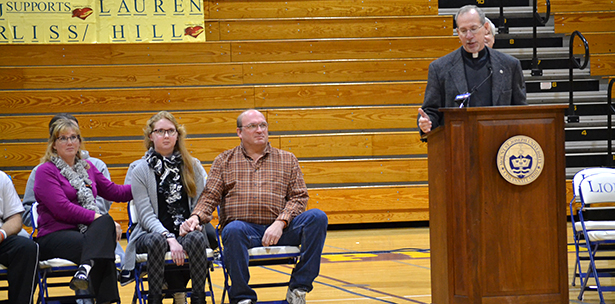 Staff Report
The Cure Starts Now Foundation confirmed media reports early Friday that Lauren Hill, a Mount St. Joseph University freshman basketball player who suffered from a fatal brain cancer called Diffuse Intrinsic Pontine Glimoa, died overnight. Hill was 19.
UPDATE: There will be a public visitation tonight, Monday April 13, from 4-6:30 p.m. in Banquet Room 1 at the Cintas Center on the campus of Xavier University. The Hill family will not be present during this time. This is an opportunity for people to pay their respects to Lauren and sign a guestbook. There will be donation envelopes available for those who wish to leave a memorial.

A memorial service will begin at 7 p.. with the following speakers: Mount St. Joseph University Religious Studies Professor Dr. John Trokan, Cincinnati Children's Hospital Medical Center's Dr. Mariko DeWire, Local 12 News' Brad Johansen, Senior Pastor of Trinity Christian Center Rev. Corey Potts and Sister of Charity from Mount St. Joseph Nancy Bramlage.

Hill rose to national fame Nov. 2 after Mount St. Joseph petitioned the NCAA to open the season early so that she could achieve her dream of playing collegiate basketball. Hill scored a layup to open the game, a highlight that has been viewed on Youtube more than half a million times.
Commentary
Hill lived the calling God gave her 
Mount St. Joseph University President Dr. Tony Aretz released the following statement Friday morning.
"God has a new game plan for Lauren Hill," Aretz said. "Her light will continue to shine on us all as her supporters worldwide continue her mission of increasing awareness and finding a cure for DIPG.  We are forever grateful to have had Lauren grace our campus with her smile and determined spirit. She has left a powerful legacy. She taught us that every day is a blessing; every moment a gift.
"As Lauren's family and friends grieve, I am sure I speak for many who will choose to reflect on her incredible life with admiration and find ways to remember her selfless generosity. We thank God for the gift of Lauren and thank her parents and family for the honor of allowing the Mount to be a part of her life. Her love and laughter will remain in our hearts."
The university has announced there will be a prayer vigil on the campus quad at 2 p.m.
Following her diagnosis, Hill worked tirelessly to raise money and awareness for DIPG research with The Cure Starts Now Foundation, granting interviews and making appearances even as her conditioned worsened.
"We are saddened to hear that our friend Lauren Hill has passed away this morning," The Cure Starts Now Foundation wrote on Facebook. "Our thoughts and prayers go out to her family during this difficult time… Throughout her diagnosis Lauren was a tireless advocate and spokesperson for The Cure Starts Now's efforts to find the "homerun cure." Lauren captured the hearts of people worldwide with her tenacity and determination to play in her first collegiate basketball game with her Mount St. Joseph University team."
The Cure Starts Now added that Hill's efforts have raised $1.4 million for DIPG research.
"Through Lauren's fundraising and advocacy efforts she not only became a spotlight on the lack of funding for cancer research, but she most certainly has become a beacon guiding researchers for years to come," said The Cure Starts Now co-founder Brooke Desserich.
Readers of TheCatholicTelegraph.com voted Hill's story the No. 2 story of 2014.
Her story was told in part via social media, inspiring the hashtag #Layup4Lauren, #Playfor22, #LiveLikeLauren and more. As of 8:30 a.m. the morning of her death, #Lauren Hill was the no. 1 trending hashtag on Twitter.
More stories about Lauren Hill
Dying to live, and living to die: Brittany Maynard and Lauren Hill
Lauren Hill issues layup challenge
Hill's efforts paying off for DIPG research
Mount St. Joe, XU work together on athlete's dream 
Posted April 10, 2015