Throwback Thursday: Lauren Hill's story bearing fruits for DIPG research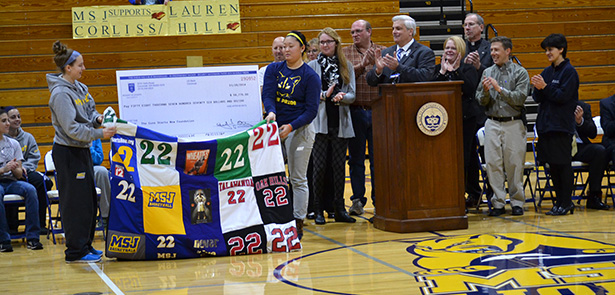 By John Stegeman
The Catholic Telegraph
The bright lights of national media rarely focus on Division III college basketball, but on Nov. 2, 116 members of said media were credentialed for a Mount St. Joseph University women's basketball game. The attention had little to do with the actual contest between The Mount and Hiram College (a 66-55 MSJ victory played at Xavier University's Cintas Center), but rather focused on Lauren Hill.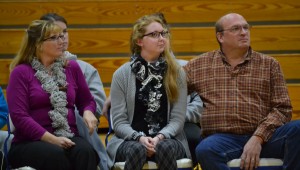 The 19-year-old freshman member of the Lions' basketball team is battling a terminal brain cancer called Diffuse Intrinsic Pontine Glioma (DIPG). The cancer usually strikes children too young to be advocates, so Hill dedicated her remaining time to raising money and awareness for the rare cancer with a zero percent survival rate.
Her efforts are ongoing as the cancer continues its course. On Nov. 18 Hill was present at The Mount's Harrington Center, the Lions home court, along with MSJ President Tony Aretz and Xavier President Jesuit Father Michael Graham as the school presented a check for $58,776 to The Cure Starts Now Foundation. The money was raised via the Nov. 2 game and increases the amount of money raised by Hill to $324,000 for DIPG research.
Hill's story had been known to her hometown in Indiana for sometime. In October, WLWT in Cincinnati did a small piece on her, and then Brad Johansen of Channel 12 did a seven-minute package that brought the much of its viewership to tears.
"Literally the next morning the phone started ringing with somebody from Fox Sports L.A.," said Jill Eichhorn. "People wanted to know how to make donations. The US Secretary of Education, Arne Duncan, his assistant called because he wanted to send her a signed basketball."
Eichhorn is the public relations manager for The Mount. Her office is modest, and her staff small. A former TV reporter, she is the main point of contact for media wishing to cover Mount St. Joseph. Eichorn estimated the number of media requests she fielded related to Hill as being "in the hundreds." To put that in context, her average month includes roughly 15 media requests.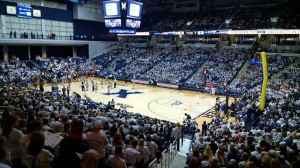 "Now it's international," Eichhorn said. "I had three calls yesterday from places in Canada, someone in the UK. A French sports channel wants to fly over here. CBS called because Tokyo wants the story and I had someone from Japan call. It started growing, and now it's out. And it's good, because that's what Lauren wants. Lauren wants awareness of DIPG.
"You just think about how many lives she's touched," Eichhorn added. "Lawrenceburg obviously knew about her, then Delhi hears about her, then Cincinnati hears about her. The world deserves to hear about Lauren. She's such a positive ray of hope and I think the world needs that."
Lauren's story
A standout high school basketball player, Hill was struggling to keep up with her teammates. Fearing a concussion, doctor visits ensued and eventually came the diagnosis of DIPG, a pediatric brain cancer with a zero percent survival rate and no known cure.
The disease usually affects children much younger than Hill.
Every media outlet to tell her story has the same answer for what happened next. Lauren's parents got sick, and Lauren asked if she could still play basketball.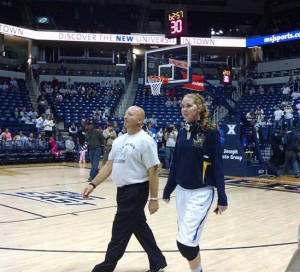 Hill underwent treatments designed to slow the cancer, but they didn't take. On her 18th birthday she committed to playing for The Mount with a dream of playing in a collegiate game, but first she had to survive that long.
The Lions head coach, Dan Benjamin, said The Mount recruited Hill because of her work ethic.
"We look for kids who work hard," he said. "Kids who are never gonna give up. That was her. She just competed. She didn't worry about how many point she scored. She worried about winning the game, but her biggest thing was always about improving and giving her all."
Hill practiced with the team and even attended class at The Mount, trying to have something akin to the "normal" college experience.
Nov. 2, Hill and the rest of the Lions took to the court at Xavier University's Cintas Center for a "home" game against Hiram College. The game was scheduled to be at Hiram No. 15 but the NCAA and Hiram gave consent for it to be played earlier, and in Cincinnati, so Hill could play.
Xavier offered its facility to accommodate a larger crowd, hence raising more money for The Cure Starts Now Foundation.
Moments into the game and wearing her No. 22 jersey Hill made a left-handed layup to put Mount St. Joseph ahead 2-0, kicking off a standing ovation by the crowd of 10,000 and a mobbing by her own teammates.
Mount St. Joseph went on to win and Hill scored four points, shooting 2-for-3 from the field. She played just less than a minute.
Helping Lauren tell it
Eichhorn stressed that this isn't a story about Mount St. Joseph. It's about one of The Mount's students.
"We all knew Lauren and we knew of her personal struggles, but this whole thing has been Lauren's story, not The Mount's story," she said. "It's not us promoting Lauren. What Lauren has been wanting to do is to promote her disease and we said 'We'll support you in whatever you need.'"
While there has been an increase in workload handling the media attention, Eichhorn said even that is no burden to The Mount community.
"We would do anything for Lauren," she said. "I can't even remember what I was doing three weeks ago. That's just what The Mount community is. We're here to support our students, faculty and staff with whatever."
That began with Hill going to Benjamin with her intent to become an advocate.
"When she came to me and said 'Coach I need you to help me do these types of things for my sake. I got to become the voice for DIPG and The Cure Starts Now.' It was an easy routine to get into I guess," Benjamin said. "When she made the decision that God had given her the opportunity to be the voice for DIPG, she said 'I got to shoulder this. I have to be the one who does it.' She's just been exactly what's on the back of our shirts, strong and courageous. She put this on her shoulders and said 'I'm going to run with it. I'm going to help this organization, The Cure Starts Now, and raise awareness so they can fight this disease and hopefully find a cure in the near future.'"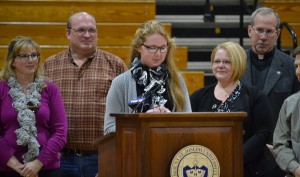 The Cure Starts Now is one of a select few charities that focus primarily on DIPG research. The founders, Keith and Brooke Desserich, lost a daughter to the disease.
Jennifer Gault, public relations and marketing director for The Cure Starts Now said The Mount has dealt with the increased publicity well.
"They've handled it very well," she said. "They had a lot of people putting all hands on deck to make sure putting this whole game on went as smoothly as it could. Obviously they are a small school and their team is used to having a few hundred people watching them, if that."
Gault said she had fielded three dozen or so requests for interviews with Hill.
Effect on the The Mount community
Coverage has grown to international levels, but Hill remains a freshman student at The Mount.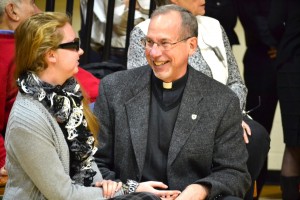 She has friends and teammates and professors like any other student. The difference is, Hill's prognosis means she won't live to see graduation. Rather than let her story be one of sadness, she's chosen to make it one of hope.
"We've all just been personally touched by Lauren," Eichhorn said. "We all have kids, and it could be any of our kids. She just is so inspiring. She just truly is one of those people. I took my own kids to the game and said 'I wish you could meet her.' She's just one of those people you want your kids to be like her. She's so inspiring.
"She chooses to live the rest of her life raising awareness and giving hope," Eichhorn added. "She's just awesome. You look at the headlines of everything today in the world, and then you see Lauren and it's like, 'holy cow.'
Benjanmin, who didn't even know he'd be coaching the team as late as this May, has seen the experience in part through the eyes of faith.
"It has been pretty incredible to be honest with you," he said. "I'm not the most religious guy in the world but Lauren has taught me about faith in God, to wake up every day not worrying about things and to just be you any get up and go."
Hill's jersey number 22 led to the use of the Twitter hashtag #Playfor22, which trended highly on the social media site the day of the game. Benjamin said he's seen the number 22 many places lately. Tickets went on sale Oct. 22, the game was Nov. 2 at 2 p.m. During the week of the game he woke up at 3:22 and 4:22 a.m. respectively and if you add the digits of the final score (66-55), it also equals 22.
"I don't claim to be anything special to God, but I know for a fact that he's there," Benjamin added. "It's pretty exciting to know that there's faith out there. There's something bigger and more powerful than us and maybe it took God to put 22 in my life for me to realize that."
The check presentation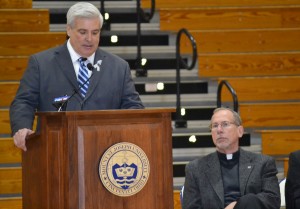 Wearing a gray sweater — gray is the awareness color for DIPG — Hill was already in the Harrington Center as the crowd began to file in. Several TV stations and other media looked on as her teammates and a seemingly unending parade of well wishers paid their respects. Hill was able to walk and stand during the presentation, and delivered brief remarks during the presentation and at a brief press conference afterward.
A reporter asked Hill for her reaction to raising more than $300,000 for DIPG research.
"That's a lot," Hill said. "I don't even have a reaction. I'm just still in shock. It's kind of like walking through a dream. It's a good dream."
Aretz emceed the program for the check presentation. While he spoke, the oversized check was covered in a quilt of No. 22 jerseys from other schools.
"Lauren Hill engaged the world with her courage, positive spirit and tremendous faith as everyone learned about her fight against DIPG," Aretz said.
Aretz and Father Graham recognized the NCAA and representatives from Delhi Township, Lawrenceburg, Dearborn County, the Big East and Fox Sports for their help in making the Nov. 2 game a reality.
"It was just a wonderful opportunity to partner with this great school over on the west side to help something very, very special happen," Father Graham said. "Our experience was that all kinds of people wanted to step forward to be a part of this in some way."
The Nov. 18 donation will provide Cincinnati Children's Hospital Medical Center with continued support of their International DIPG Registry and will support the registry's primary goal of understanding the biology of DIPG with a goal toward finding a cure.
"I just want to thank everybody for supporting, and still supporting me, even though the game was two weeks ago," Hill said Nov. 18. "It feels like it was yesterday. I'm really happy that this is happening and that we've got some funds for this research. Thank you guys."
What's Next?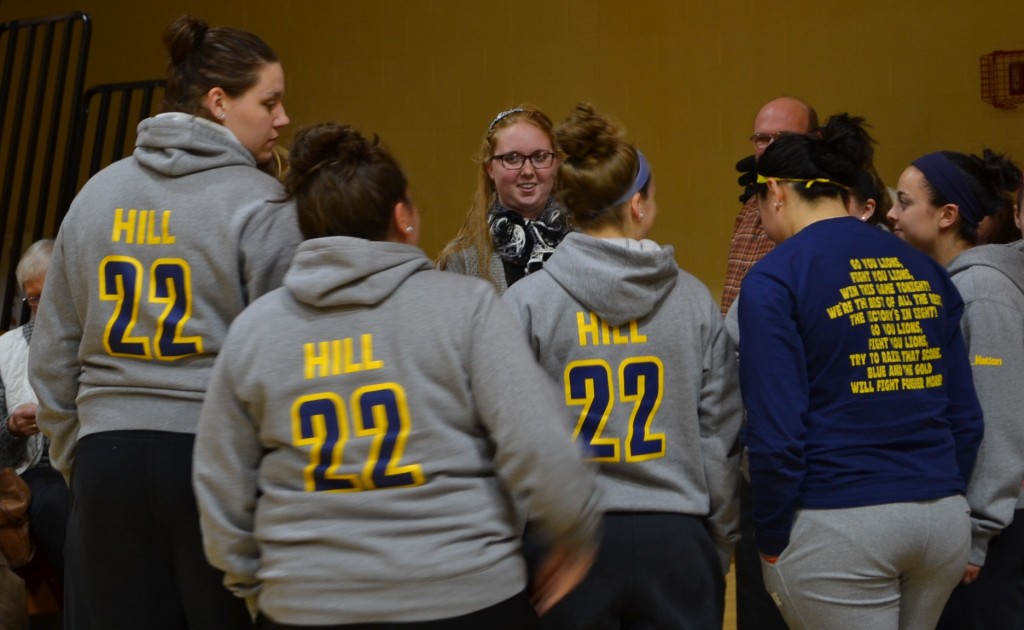 Hill, who was named Heartland Collegiate Athletic Conference Women's Basketball Player of the Week on Nov. 3, corrected media at the Nov. 2 game who referred to it as her last. Hill stressed that it was her first game. The Lions next game is Nov. 21 against Buffalo State University in Berea, Ohio.
Hill continues to work to raise awareness of DIPG but said her priority now is spending time with her loved ones.
"I say live in the moment," Hill said. "That game was two weeks ago. I'm not worried about the future either. I'm just worried about spending time with my family right now in the holidays and trying to get to Thanksgiving and just living in the moment."
Story posted Nov.18, 2014