Lenten almsgiving at St. Charles Borromeo targets Dayton charities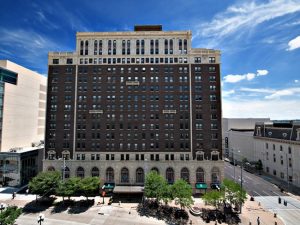 St. Charles Borromeo Parish in Kettering is donating goods to two local charities for its Lenten almsgiving: the pantry in the Biltmore Towers for seniors and the Brunner Literacy Center for adult learning.
The charities have provided St. Charles with a list of needed items. Parishioners are bringing them to church for collection throughout Lent. School children are having their own collection, with some grade-level competition for fun.
The Biltmore Towers houses at-risk, low-income people 55 and older, and those who are disabled. Once the most elegant hotel in Dayton, the Biltmore had a long history of famous visitors. Although this HUD housing no longer displays the glory it once had, it does hold a treasure — Dayton seniors.
One woman has been a resident ever since she had to enter through the back door because of her color. The pantry is named in her honor, the "Miss Ruth Campbell Resident Pantry."
St. Mary Development Corporation Resident Services helped residents start the pantry to help themselves. It's managed by Jack Morris, who is a Biltmore resident. The pantry allows seniors to obtain basic necessities when income restrictions and mobility become a barrier. St. Charles parishioners are donating items such as non-perishable food items, cleaning supplies, and toiletries. To donate, contact Jack at 937- 620-7457. For more information about St. Mary Development Corporation and their Resident Services program, visit StMAryDevelopment.org.
The Brunner Literacy Center provides free, one-on-one tutoring to adults 19 and older who want to improve their reading, writing, and math literacy skills. The Center offers instruction at all learning levels, from basic letter recognition to GED preparation and beyond. It was established in 2011 by Sisters of the Precious Blood Helen Weber and Maryann Bremke, both long-time educators. The Center is named after Maria Anna Brunner, foundress of the Sisters of the Precious Blood.
Since the Brunner Literacy Center opened in 2011, it has helped more than 900 people improve their literacy skills. More than 150 of them have reached the educational goals
they set for themselves. Many students have earned their GED, found employment, and attained U.S. citizenship as a result of their studies. The Brunner Literacy Center is on
track to serve its 1,000th student in 2017. Through generous support, the Center has significantly expanded and now includes four centers in the Dayton area.
St. Charles Parish has been working with Kathy Reed, Brunner's program manager, on the Lenten project. Throughout Lent, St. Charles parishioners will collect items including school supplies, gift cards, stamps, bus tokens, toiletries, and books. For more information on the Brunner Literacy Center, contact Kathy Reed at 937-567-9600, [email protected]
---
Scripture Connection
Mark 6: 41-42: Then, taking the five loaves and the two fish and looking up to heaven, he said the blessing, broke the loaves, and gave them to [his] disciples to set before the people; he also divided the two fish among them all. They all ate and were satisfied.