Glenmary Brother Bob Hoffman dead at 89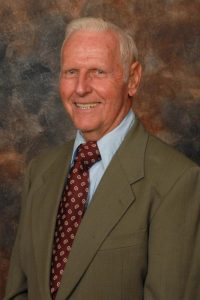 Builder, writer: For 64 years, missioner found new ways to serve
CINCINNATI, Ohio (March 21, 2017) – Brother Robert John Hoffman, a Glenmary Home Missioner for 64 years, died March 17 in Cincinnati, Ohio. He was 89.
A member of the Brothers Building Crew, Brother Bob worked throughout the United States helping to build and renovate churches, rectories, medical clinics and schools. He worked with the People's Self-Help Housing project in Vanceburg, Ky., an organization that helped low-income families construct or repair their homes. To qualify for assistance, each family had to participate in the construction project. Through People's Self-Help Housing, Brother Bob, along with the Glenmary Group Volunteer Program in Vanceburg, provided many families in the area quality, affordable housing.
He also worked for 12 years in vocation ministry in the Midwest, counseling young men interested in joining Glenmary, and served as a driver for Father William Howard Bishop, who founded the Glenmary Home Missioners in 1939. Brother Bob drove Father Bishop to Glenmary's missions throughout the South, Appalachia, Ohio and Pennsylvania. It was a job he cherished and often talked about in his later years.
"Brother Bob was a missioner to the end," said Glenmary president Father Chet Artysiewicz. "His heart and passion for the missions never wavered even as his physical health declined. Whether the project involved the construction of a beautiful worship space, securing pure drinking water or raising funds for the missions, his mind was constantly at work. It was a cross for him when he could no longer actively serve; perhaps that was why he spawned so many creative ideas about the missions in his latter years."
He stayed busy after finishing his active service in 1997, because "the worst thing that could happen to me is monotony," Brother Bob once wrote. Settling in Clinchport, Va., near his last mission assignment in Dungannon, Va., Brother Bob helped residents build homes and obtain land titles until he moved to Cincinnati in 2010.
During his senior status, he traveled overseas for at least three months each year to help communities in Kenya raise money for students' tuition, stock their local food banks and bring clean drinking water to their villages. He helped build homes and constructed a six-room school in a Kenyan village that served 10 missions and more than 30,000 Catholics. One village named its church St. Robert in honor of Brother Bob's service.
He continued to send out a monthly newsletter to finance his mission work and to provide spiritual guidance to those on his list. An avid writer and photographer, Brother Bob self-published at least 20 booklets, including reflections on his travels and mission work, interviews with people he encountered, his story of coming to Glenmary and original poetry. He also gave regular talks at St. Margaret Hall about his travels and mission work.
A native of Buffalo, N.Y., Brother Bob made his first oath with Glenmary on Aug. 15, 1952. He earned his master's degree from the School of Applied Theology in Oakland, Calif., and a doctorate of ministry from the Lancaster Theological Seminary in Lancaster, Penn.
He is survived by many nieces and nephews, friends and fellow missioners. He was preceded in death by his parents, George and Margaret Hoffman; brother, George J. Hoffman Jr.; and sisters, Catherine Gramza and Rosemary Winiasz.
Reception of the body will take place at 4:30 p.m. Wednesday, March 22, at Our Lady of the Fields Chapel, 4085 Glenmary Trace, Fairfield, Ohio. Visitation will follow, and a wake service will begin at 7 p.m.
Mass of Christian Burial will be at 10 a.m. Thursday, March 23, at St. John Neumann Church, 12191 Mill Road, Cincinnati, Ohio.
Memorials may be made to Glenmary Home Missioners, P.O. Box 465618, Cincinnati, OH 45246-5618. Newcomer Funeral Home is assisting with arrangements.
---
About Glenmary Home Missioners
Glenmary Home Missioners (aka the Home Missioners of America) are a Catholic society of priests and brothers who, along with coworkers, are dedicated to serving the spiritual and material needs of people living in mission counties throughout Appalachia and the South.