Lenten effort challenged Miami Valley residents to stand in solidarity with the hungry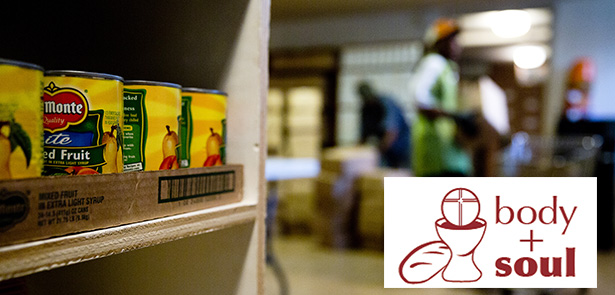 By Eileen Connelly, OSU
The Catholic Telegraph
Shopping for and preparing meals isn't easy for people who live on a limited incomes and lack transportation. This includes urban neighborhoods in the Dayton area, ranked fourth in the nation for food hardship.
For one week in Lent (March 22-38) the Catholic Social Action Office and Weavers of Justice, a social justice collaborative of Dayton parishes and organizations, called for Miami Valley residents to stand in solidarity with hungry families by participating in the Hunger Solidarity Challenge. 
Cardinal Oscar Andres Rodriguez Maradiaga of Honduras, the president of Caritas Internationalis, echoed this call while visiting the archdiocese in March. Caritas Internationalis coordinates humanitarian, development and international activities on behalf of its members and the Holy See and operates the "One Human Family, Food for All" campaign.
The footprints of the Hunger Solidarity Challenge were simple. The cost of food and beverages during that week was limited to $4.50 per person/per day ($31.50 per person/per week). In 2014, the average Ohio Supplemental Nutrition Assistant Program (SNAP) benefit was $4.39 a day. All food purchased and eaten during the Challenge was to be included in the total spending.
Participants were encouraged to purchase their meals at a gas station, pharmacy or dollar-type store, where those who live on limited in incomes in urban neighborhoods often have to shop. They were also asked to walk to buy their food, as people with no access to transportation access must do.
In addition, those who took part in the challenge were to keep track of their spending during the week, share their experiences via social media and donate the money they saved to their parish's hunger program, food pantry, Catholic Social Services of the Miami Valley Food Pantry, the Dayton or Second Harvest Food Bank, or Caritas Internationalis.
MaryEllen Fargey, a member of St. Helen Parish in Dayton and co-chair of the Weavers Legislative Advocacy/Food Sufficiency Task Force, said she chose to participate in the Challenge, "to see if I could do it and to experience what low income people go through."
The experience taught her to plan ahead for shopping trips and meal preparation, to not be tempted by all the tantalizing, but unnecessary items on grocery store shelves, and to shop and eat more simply. Most of all, said Fargey, the Challenge renewed her sense of gratitude for what she has and commitment to helping those less fortunate.
"It was a reminder that I have choices that many people don't," she said, noting that as follow up to the Challenge, she hopes to collaborate with other individuals and agencies to petition dollar stores to carry fresh produce and more nutritious food items.
In a reflection she penned during the Challenge, Carol Adamson, a teacher at St. Peter School in Huber Heights, shared how the experience brought to mind the reality faced by low-income people. "I was having difficulty getting to sleep last night and knew it was because I was still hungry," she wrote. "I started thinking about a turkey in my freezer and how I would fix it the week I'm off. Then, it struck me that those in poverty aren't planning a meal two weeks in advance. They are wondering when their next meal will be."
"What I am impressed with is the faithfulness that each participant showed in living within a budget for food and walking to get food in their neighborhood, said Pam Long, regional director of the Catholic Social Action Office. "I can see how the Holy Spirit blessed them with many insights so that they could stand in true solidarity with people who experience poverty every day of their life."
This Body & Soul feature originally appeared in the May 2015 print edition of The Catholic Telegraph.