Life at historic St. Clement Parish today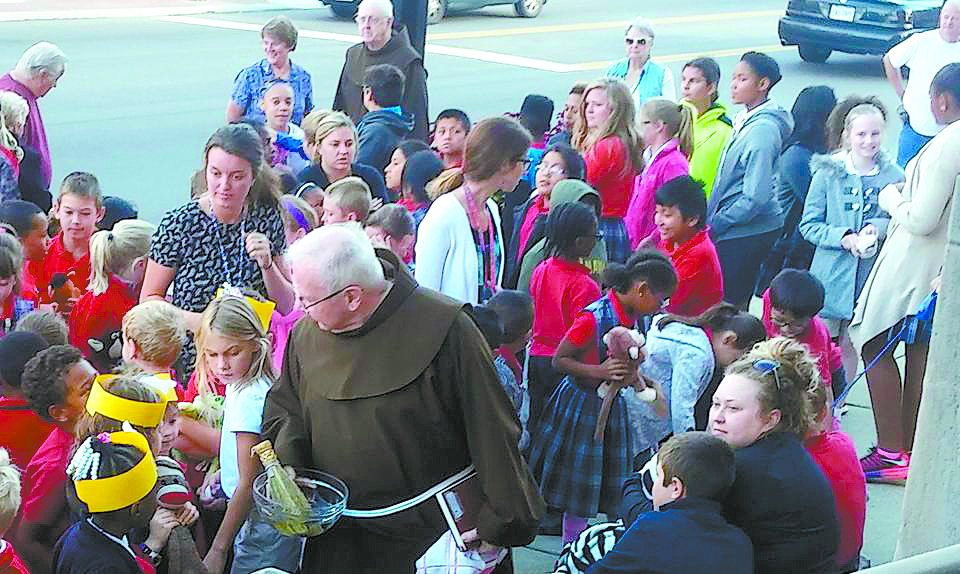 By Gail Finke
(An earlier version of this story was previously posted in error.)
A real estate venture by Catholics who both wanted to make their fortunes and establish a village far from the anti-Catholic sentiment of urban Cincinnati, rural St. Bernard was home to one of the country's original Catholic parishes staffed by Franciscans from Austria's Tyrol area. As Father David Endres wrote in his new book about Franciscans in America, "Many Tongues, One Faith," the German-speaking parish practiced many European Catholic traditions and a Catholic faith that was, he said, "an other-worldly experience."
     Franciscan parishes of the time, Father Endres said, built elaborate and decorative churches that emphasized Mass as a way to "step out of the world."
     Today the brick church built in 1871 to replace several smaller buildings has a spare sensibility common to many newer American Franciscan parishes, its interior having been rebuilt after a devastating fire in 1963. 
     St. Bernard is now a small city with a largely working-class population, rather than a bucolic farm community. But Franciscan Father Fred Link, who has been St. Clement's pastor for nine years, says the community of 17 Franciscans living there carries on in the same spirit as their pioneering brothers.
     "The Franciscans are here to serve the area bishop," said the priest. "We were invited from the Tyrol to minister to German-speaking Catholics, and today we're still meeting the needs of the people."
     A Franciscan parish is warm, inclusive, and welcoming – as all Catholic parishes strive to be, Father Link said, "but in general we serve among the poor and parishes that have special needs." Lately, he said, those needs at St. Clement have included helping a growing Hispanic community integrate into the area, parish, and school, and the parish hopes to offer a weekly Spanish Mass soon. 
     "The school is our pride and joy," he said. "We have Latino, African-American, Anglo, and children from other groups – we work hard to celebrate everyone and make everyone feel equally welcome."
     At its peak, St. Clement had about 1200 parishioners, and now has between 400-500. Sunday Masses are at 8:30 and 10:30 a.m. The parish has a food pantry and is active in area ministries. The neighboring Franciscan high school, Roger Bacon, also celebrates all-school Masses, graduation Mass, and other events in its church. Parish concerts, prayer and seasonal events, and celebrations often include whole families. In 2011, Father Link revived the parish Corpus Christi procession. In Tyrolian fashion, the procession stops at temporary altars set up in parishioner's yards or porches for prayer and veneration.
     Because of declining numbers of friars, the Province of St. John the Baptist has turned over many of the parishes it established to their dioceses, Father Link said, but St. Clement remains exactly the sort of parish the first Franciscans in America came to serve.
     "Francis wanted his men to be a brotherhood," he said, "and our ministry here at St. Clement is informed by fraternity."
     For more about St. Clement, see the parish website: Stclementcincinnati.org. 
Click here for part one of this story, "In the land of the infidels: How the Franciscan parish was invented in Cincinnati"