Little Sisters of the Poor Spaghetti Dinner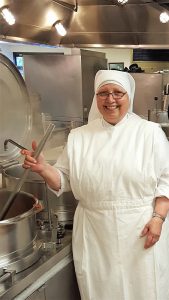 The last Saturday of June is reserved at the Little Sisters of the Poor for their annual Spaghetti Supper fundraiser. For the past six years, guests have been flocking to 476 Riddle Road in Clifton to get a taste of Sister Mary Imelda's famous spaghetti sauce.
This year the Little Sisters open their doors on June 24 for dine-in patrons from 3-7 p.m., giving folks an extra hour of time to enjoy the food without the crowd. People will also have the option to enjoy hot carry-out meals starting at 2 p.m. "Last year was record breaking and I want to allow people the opportunity to enjoy the food and atmosphere without feeling crowded or rushed so we plan to open our doors an hour earlier," Sarah Steffen the event coordinator said. If patrons can't make the big event Saturday, they can stop in June 23 from 1-7 p.m. to get quarts of sauce and meatballs to enjoy at home.
Skilled Care Pharmacy is a loyal partner that sponsors the event every year. The Supper will also be sponsored by Oberson's Nursery and Landscapes, Lithko Contracting, Denier Electric, and ECOLAB this year along with many other company sponsors. To find out a full list of all involved go to www.littlesistersofthepoor.org.
The Little Sisters of the Poor is a Catholic organization that has offered a home to the elderly poor of Cincinnati for nearly150 years. St. Paul's Home is a retirement community that offers assistance to all those in need no matter race, religion, or frailty. In order to care so well for the Residents the Home relies on donations to survive. The Spaghetti Supper is one of the ways the Home works to raise money for the Residents. For questions or more information on the Little Sisters or Spaghetti Supper contact Sarah Steffen at (513)281-8001 or email [email protected]