Local photographer shares 'messages of glory' in new book
May 31, 2012
By Natalie Corzine Moore
Photographer Robert Flischel wants local Catholics to join him on a "Pilgrimage of Light."
In his new book Messages of Glory: The Narrative Art of Roman Catholicism, Flischel (along with fellow photographers Joe Simon and Jay Yocis) tells the story of the Roman Catholic faith through the art of local churches in the southern part of the Archdiocese of Cincinnati and the Diocese of Covington.
He invites readers to use the map included with the book to go beyond their home parish — to "leave Mariemont and go to Westwood…to leave College Hill and go to Bellevue…" — and to tour other churches  for a better understanding of their Catholic faith.
"My hope is that this book can raise awareness and become as inspiring for the viewer as it was for the whole team," said Flischel.

More than just a book of stained glass, the work highlights art of many different materials (i.e. wood, glass, metal, stone) from area churches to narrate major elements of Catholicism. Flischel is "fascinated with the method and materials of art and its construction" and is interested in how classic materials have been incorporated throughout archdiocesan churches. Famous artists such as painter Frank Duveneck and stained-glass creators G.C. Riordan and Franz Mayer can be found in both dioceses.
Flischel's interest in Cincinnati's Catholic art began in the 1990s when he attended a seminar by the late Father Donald Tenover titled "Treasured Churches of Cincinnati." Father Tenover, who once served as secretary to Archbishop Karl J. Alter, oversaw the renovation of the Cathedral of St. Peter in Chains from 1953-57. From that seminar, the idea for Messages was born. Flischel decided he wanted to further document the historic churches in Cincinnati. He got his inspiration from the PBS series "Civil War" by Ken Burns. He figured if Burns could take "torn, worn dusty pictures and make epic TV" then certainly he could develop a book idea based on area churches.
His career includes works in national publications (Life, Time and Audubon to name a few) and corporate work with P&G, Disney and Longaberger. He has published three other books that focused on the architecture at the University of Cincinnati, the city itself and Cincinnati Public Schools. That plus his experience in shooting weddings and other ceremonies in local Catholic churches gave him enough background to undertake this project.  While working in many of the historic churches in the area, Flischel "became aware of how substantial the repository of art was." He decided to develop a piece of visual art to reflect the history.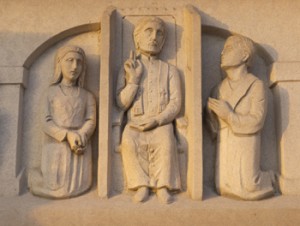 What he thought to be a simple idea became an almost 20-year project instead. Trying to piece together major parts of the book became monumental, with Flischel  and his team having to make key decisions on which pieces of art help best define the Catholic faith. For example, he says finding a piece of art to "tell the story of confession was not an easy thing to find." He decided to use an image that "thousands of Cincinnatians drive by daily but ever notice" to depict confession — the statues on the front of St. Teresa of Avila in Covedale. For the Transfiguration (which he says put him in a "tough spot" since it is a newer mystery), he used the murals of Divine Mercy Parish in Bellevue, Ky. to depict the story.  The book features art from parishes throughout both dioceses.
Flischel also wanted to create a historical document that "pays homage to the people who built these interpretations." From 1840-1950, thousands of German, Irish, Greek, Italian and French immigrants came to the area and built churches in the inner-city neighborhoods. And they filled these churches with the art Flischel loves. He became fascinated with the stories of how Europeans came here to build a better life and how they brought their faith. The artwork in local churches is a testament their faith. "This art is their memorial," he said.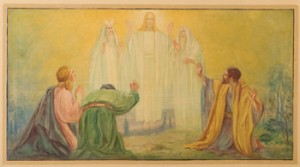 However, migration to the suburbs since the 1960s has forced parishes to close, endangering their art. The Archdiocese of Cincinnati and Diocese of Covington are making "great efforts" to save these works by restoring them and moving them toother parishes or by storing them.
"With the realities of the shrinking inner-city, I am surprised at how well this art is being stewarded. It's not a perfect stewardship, but it is amazing what the archdiocese is trying to accomplish in order to save it," said Flischel.
Editing this endeavor proved difficult. Whole chapters were cut to keep the size of the piece manageable. Some significant events in church history and key stories from the Bible were cut; his favorite section — the chapter on the Eternal Cross — was limited to a double-paged spread.  He was very mindful of creating a "visual rhythm" for the project, deciding which pieces worked best together.  This was challenging as his team had to rely on both older film and recent digital representations of the works, which made the color work and print production more difficult.
Flischel feels this book is a "contemporary interpretation of theology" that he wants to share. Through a grant from James and Joan Gardner, more than 243 Catholic colleges, universities and libraries will receive a copy. Currently, Flischel is raising funds to purchase books for all parishes and schools in the both dioceses to share this history because "if you can't share it, what's the point of creating it?"
Messages of Glory: The Narrative Art of Roman Catholicism is available for purchase online at www.robertaflischel.com/messages-of-glory.