Coming soon to Badin High: an air conditioned building
May 31, 2012
When Badin High School students are asked what they would change about the school, frequently the answer is, "Add air conditioning …"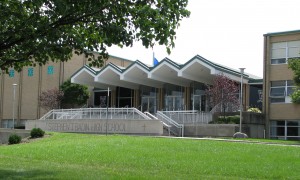 That wish will be answered this summer with a $450,000 project that will air condition the entire classroom wing of the building, according to BHS Principal Brian Pendergest.
"We are very pleased to announce that the building will be air-conditioned,'' Pendergest said. "We have done extensive research on the project, gotten a number of competitive bids, and are ready to move forward immediately."
Air Force One, a Columbus-based firm, will oversee the project beginning Friday, June 1. It will be completed by the start of school in late August.
"This is the same company that air-conditioned Mount Notre Dame High School, and they did a very good job with that,'' Pendergest explained. "We are saving a significant amount of money by buying the units directly from the supplier. Once we had the project in place, Air Force One came in and tweaked their proposal and saved us even more money.
"We felt this was a very important, needed improvement to our facility,'' Pendergest added, "and we are very gratified that the school board approved the project."
In the past 10 years, Badin has put well over $1 million into renovating and updating the school building, which opened in 1967; and also built the $3 million Pfirman Family Activity Center behind the school.
"This is one more piece of the puzzle,'' Pendergest said. "The building has been kept in very good shape over the years, but the hot months can be uncomfortable and undermine the learning environment.
"School buildings in 2012 are air conditioned,'' he added. "This system will also enhance our ability to heat the building more efficiently. It's going to make Badin High School that much better of a place to go to school."