Local seminary booming with potential priests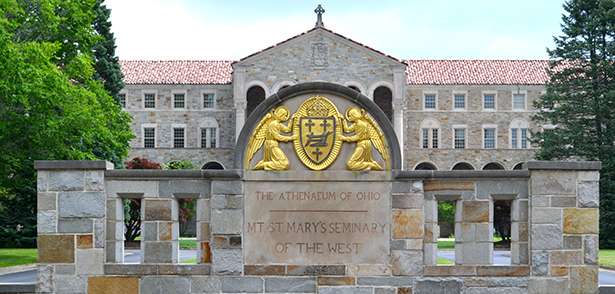 By John Stegeman
The Catholic Telegraph
Two men were ordained priests for the Archdiocese of Cincinnati this year. Two were ordained last year as well, but going forward the numbers are expected to spike.
Pending 100 percent retention, four men are scheduled to be ordained in 2015 from the local seminary. In 2016 that number could jump to seven. After a brief projected dip, the number of ordinands could skyrocket as high as 12 in 2019.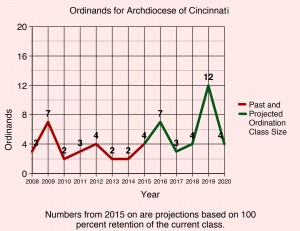 A key reason for the growth is the support of Archbishop Dennis M. Schnurr and the work of Mount St. Mary's Seminary of The West/The Athenaeum of Ohio. Led by Rector Father Benedict O'Cinneslaigh, the seminary is experiencing a groundswell in enrollment. The official enrollment for this academic year is 66.
"What we're doing is consistently building," Father O'Cinnsealaigh said. "We only have room in the seminary right now for 69 guys. We're right on the edge."
The growth shows no signs of slowing down. Father O'Cinnsealaigh expects the numbers to go up again next year in the wake of aggressive recruiting. There is one more dorm at the seminary being renovated this summer, but after that, there is simply no more space.
"It's a better problem to not have enough room than to have a big empty building," Father O'Cinnsealaigh said. He added that an ideal, yet manageable number of seminarians for Mount St. Mary's would be between 80 and 120.
Archbishop Schnurr noted the work of the Vocation's Office has played a role in the growth, but said the seminary's reputation speaks for itself.
"The growth of the seminary is due in large part to the fact that its reputation as a very fine institution for the education and spiritual development of priests is well known," he said. "Seminaries as a whole are seeing increased numbers. St. Meinrad in Indiana is at the maximum number. The Josephinum in Columbus is at the maximum number. Studies by CARA (Center for Applied Research in the Apostolate) indicate the number of men studying for the diocesan priesthood is on the upswing nationally."
Thirty one of the 66 seminarians enrolled this year, if eventually ordained, will serve as priests for other dioceses. Seven dioceses and one religious order are represented.
"We are dependent on people from outside (the archdiocese) on a number of things," Father O'Cinnsealaigh said. "Financially, people that come from other dioceses pay to be here and that helps support the budget. The guys from Cincinnati, the CMA appeal is what pays for them.
"The other reason we bring guys in from outside is, you don't want to have a seminary that is completely inward looking and isolated," he added. "If you had a seminary in Cincinnati and you only took Cincinnati guys and you didn't send anybody anywhere else and you didn't bring anybody in, what kind of a vision of the church are you presenting to guys? … Where do they become aware of the universal church and other local churches?"
There are presently 35 men studying to be priests for the Archdiocese of Cincinnati at the seminary. Mount St. Mary's pays the board and lodging for local seminarians at college seminaries such as the Pontifical College Josephinum and other institutions. The time from start to ordination for a seminarian can range between five and nine years, and ordination is never guaranteed.
"When you come to the seminary you don't come to the seminary and then you're going to become a priest and that's it," Father O'Cinnsealaigh said. "You're discerning whether this is authentic or not and whether you can do it. And the church is discerning whether it is authentic or not and when both of those things come together at the end of the process, then a man presents himself for ordination and the church accepts."
Father O'Cinnsealaigh said both Archbishop Emeritus Daniel E. Pilarczyk and Archbishop Schnurr have been very supportive of the seminary's work both in formation of priests and in improvements to the facilities.
"You can't have a seminary function really well if you don't have the support of the local bishop," he said. "Our seminary is an unusual seminary in the sense that it is a truly diocesan seminary. It isn't a seminary run by a religious congregation to train priests, it is a diocesan seminary run by a diocese and a bishop to train priests. What I like about that is, it is parish priests training men to be parish priests. All of the priests working here, and we've got some religious working here too.., but all of our diocesan priests working here have had parishes… In the classroom, examples aren't drawn from theory, they're drawn from practice."
In addition to his administrative support, Archbishop Schnurr has made prayer a major part of the vocations plan. In 2011, he introduced a vocations prayer and asked that it be prayed at Masses. Vocations have only increased since it was introduced.
"There is no doubt that the power of prayer has had a big impact on vocations," Archbishop Schnurr said. "When I was in Duluth we instituted a vocations prayer and men studying for the priesthood doubled in four years. When Pope Benedict visited the United States in the spring of 2008, the question was posed, 'Holy Father, what can we do to increase vocations?' And the pope said, 'Don't overlook the obvious. Beg the harvest master.'"
Father O'Cinnsealaigh said the vocations prayer is recited daily at the seminary.
While the Athenaeum's Lay Pastoral Ministry and Deacon programs are strong, those programs have maintained relative stability in class sizes while the number of seminarians has expanded.
"I think, to be honest, we could be satisfied with what we've got," Father O'Cinnsealaigh said. "But all of us have to think bigger. We all have to think bigger. Maintaining is not our mission. Evangelization is our mission. We can get stuck. Maintaining is a nice thing, we can do it, but I don't want the seminary and I don't want the Athenaeum to be a place that's comfortable and at peace with itself and has a certain number of people and a certain income and this is what we can manage. This place should be on fire. It should be drama and activity and it should be bursting with life in all of our programs because there's big work to be done out there, and this is the place you should be trained for that work."
This article originally appeared in the October 2014 print edition of The Catholic Telegraph.
Posted Sept. 27, 2014