Local sister met John Paul II in 1990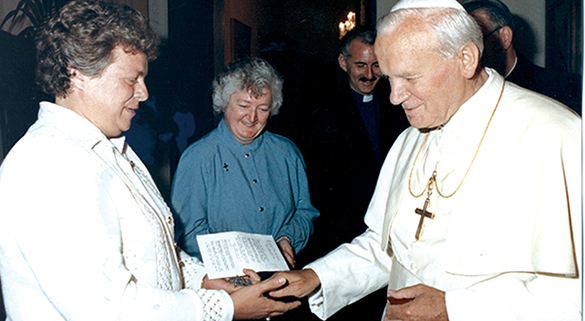 Staff Report
Sister of Mercy Victoria Vondenberger director of the archdiocesan Tribunal, knew she was in the presence of someone special when she met Blessed John Paul II in 1990.
She was in Rome as part of a cannon law class trip, when the group was invited to the pope's private morning Mass. After Mass, they were directed to the papal office, where the late pontiff greeted them.
Sister Victoria recalled that as the pontiff presented her with a gift rosary, she told the him he resembled her father. The Holy Father quipped that her father must be younger than he was.
Without thinking, Sister Victoria responded by putting her hand on his shoulder and saying, "Bless your heart, he's older than you."
The group's priest professor said, "Vicki, the pope is supposed to bless you. You are not supposed to bless the pope."
Sister Victoria said the pontiff smiled broadly with a definite twinkle in his eyes and said, "Let it be."  As the Holy Father moved on to the next person he looked back at her and said, "Your own Papa."
"Little did I suspect that 24 years later I would have pictures of myself with a newly declared saint of the Roman Catholic Church," she said. "It's very humbling to think that I met a person who is going to be a saint."
Blessed John Paul II and Blessed John XXIII will be canonized as saints by Pope Francis on April 27.